Sky keeping Tour focus on Wiggins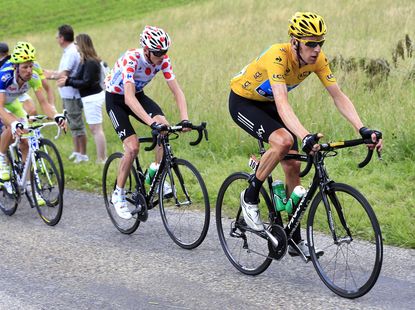 Team Sky says that it will keep its focus on Bradley Wiggins and not on a second Tour de France podium spot for Chris Froome.
"It's certainly not a goal to have two guys on the podium," sports director, Sean Yates told Cycling Weekly. "If it happens, it happens. I'd certainly be a bonus for Froome!"
Froome moved into third overall yesterday after his time trial. With Wiggins in first, the two sandwich defending champion Cadel Evans (BMC Racing).
It was a similar situation last year in the Vuelta a España, where the two placed on the final podium. Wiggins went in as the leader, but Froome excelled in the final stages. Juan José Cobo (Movistar) won the race, Froome placed second and Wiggins third.
Yates explained that where Froome places will be a bi-product of him working for Wiggins.
"We don't need to protect him, he just rides for Bradley," added Yates. "They both stay out of trouble and the team works around those two guys."
Head coach, Shane Sutton said that the team would not directly work to see to Froome's podium place.
"You can forget that sort of talk, we're here to win the Tour," Sutton said. "We sit out on a mission, to win the Tour with a British winner. We got one in first and one third at this moment. That's still the ultimate goal, to win the Tour with a British rider. We won't hold back to try to get X amount of people on the podium."
Both agreed that having Froome on the podium was advantageous in case something happens with Wiggins. Last year, he crashed and abandoned with a fractured collarbone in stage seven. At the Vuelta a España, he suffered more than Froome did in the steep climbs.
"It's like anything, it's strength in numbers. If you can prop guys up on the GC, it gives us that little bit of freedom to use different cards when you need them too," Sutton continued.
"At this moment, it's all hands on deck for Brad, as simple as that. Froomy is more than capable of winning the Tour if something happens to Brad, but at this moment, it's all hands on deck for Wiggins."
"You can never discount an accident for either one of them," Yates added. "The fact that we have two guys up there is clearly good."
Wiggins agrees. He said yesterday that Froome will "ride shot gun and act as a back-up plan. Anything could happen."
Thank you for reading 20 articles this month* Join now for unlimited access
Enjoy your first month for just £1 / $1 / €1
*Read 5 free articles per month without a subscription
Join now for unlimited access
Try first month for just £1 / $1 / €1