Sky's riders slapped, hit, pushed and cheered on Alpe d'Huez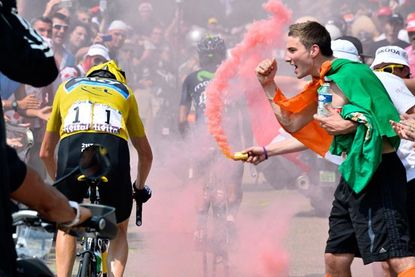 Outside the Team Sky bus the morning after the Alpe d'Huez stage, it was clear the riders and the team hadn't enjoyed the previous day as much as the fans.
With two climbs through some of the biggest crowds the Tour de France has ever seen, the riders spent most of the latter parts of the stage riding through a sea of people, with the close encounters.
"The crowds spoiled the stage a bit," said team boss Sir Dave Brailsford. "Froomey got hit in the face with a high pressure water-pistol, he got slapped a bit, the whole team were getting hit by people on the climbs."
"The lads didn't really enjoy having to ride through it twice. There were just far, far too many people on the road."
Shane Sutton, Sir Bradley Wiggin's coach for the Tour last year who arrived on the race on Thursday, agreed: "Yesterday was a stupid stage - once up the climb would have given you the same result."
"If you look at the demands they're putting on people, in a sport that's becoming cleaner, you think how the hell are these guys doing what they're doing. Sometimes what they're asked to do is borderline impossible."
Geraint Thomas tweeted after the stage 'Well that was insane! Thanks for the support. However please DON'T push me on my lower back! #painful'
Related links
Tour de France 2013: Cycling Weekly's coverage index
Thank you for reading 5 articles this month* Join now for unlimited access
Enjoy your first month for just £1 / $1 / €1
*Read 5 free articles per month without a subscription
Join now for unlimited access
Try first month for just £1 / $1 / €1
Michael Hutchinson is a writer, journalist and former professional cyclist. As a rider he won multiple national titles in both Britain and Ireland and competed at the World Championships and the Commonwealth Games. He was a three-time Brompton folding-bike World Champion, and once hit 73 mph riding down a hill in Wales. His Dr Hutch columns appears in every issue of Cycling Weekly magazine
As a writer, he wrote the award winning The Hour about his attempt on the sport's most famous and sought-after record. He followed that up with Faster, about the training, the science the genetics and the luck behind the world's fastest riders, and Re:Cyclists, a history of cyclists from 1816 to the present day.
He's written for outlets ranging from Cycling Weekly to the New York Times, and has presented and and commentated for the BBC, Eurosport, Channel 4, and Sky Sports.
Before he did any of that he was a legal academic at Cambridge and Sussex universities. He now lives with far too many bicycles in London and Cambridgeshire.