The 10 most unorthodox places to stay for the Tour de France Grand Depart, Yorkshire 2014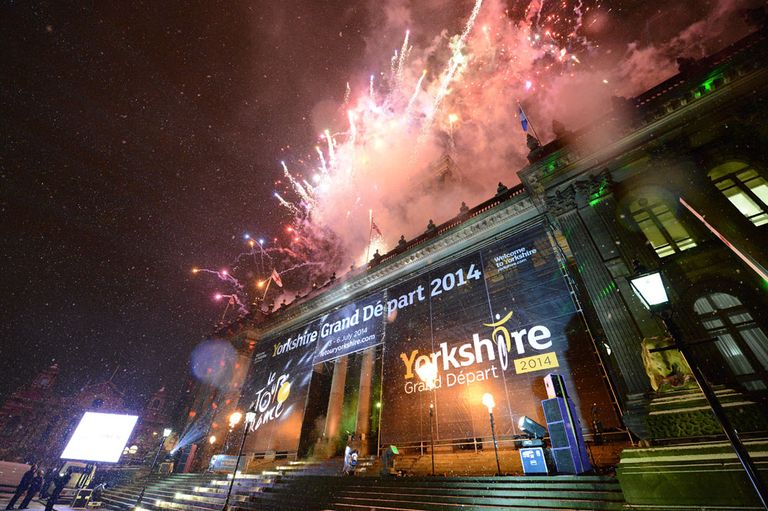 Millions of cycling enthusiasts, and Radio Five Live, will descend on Yorkshire next year when the Tour de France goes all Last Of The Summer Wine.
But where will they all stay? In the absence of Judith Chalmers, away on a time trial in the Algarve, John Woodhouse looks at some of the more leftfield options.
The Sidings, York
Founded in 1985 by an ex-railwayman, The Sidings, consisting of five Pullman-style railway carriages, gives you the pleasure of experiencing not only the wonders of early 20th century rail travel but also all the present day action on Yorkshire's East Coast Main Line. Sadly this loco never actually gets going, so similar to the Orica-GreenEdge lead-out train. Would suit anyone who likes a sausage roll in their musette. www.thesidingshotel.co.uk
Hellifield Peel Castle, Skipton
As with the rebuilding of Jonny Hoogerland, Hellifield Peel Castle was featured on Grand Designs. Owners Francis and Karen Shaw turned a derelict wreck into a romantic feature, like Richard Virenque in reverse. Perfect for re-establishing intimacy after a day's petty bickering while waiting for the peloton to pass through Wakefield. www.peelcastle.co.uk
La Rosa Gypsy Camp, Whitby
Showers in a converted byre, compost loo in an original wooden shepherd's hut, and an open air bath in an orchard. No, it's not an Euskadel-Euskadi training camp. This is La Rosa Gypsy Camp, constructed from recycled and reclaimed objects, possibly including Lance Armstrong's Olympic medal. Camping, in vintage and classic caravans, is low energy (candles and fairy lights), and low pollution. So everything the Tour isn't.
"We hope you find it a fantasy land full of nostalgia, romance and all things kitsch, camp and bohemian," say the owners, so check it hasn't been pre-booked by Garmin. www.larosa.co.uk
The Millgate B&B, Masham
Millgate used to be Masham's poor house, so don't expect Team Sky to be staying there. Not only that but its Grade II listed dining room was once the village jail - any early dope offenders in the 2014 edition could find themselves here. Masham is, of course, also home to the classic strong ale Ole Peculier (CRRCT), named after Cadel Evans.
The top floor of the building where the guest bedrooms are located was once used as a court, so the UCI will be steering clear. www.millgate-masham.co.uk
Jolly Campervans, Huddersfield
Jolly Campervans has two retro-look VW camps vans for hire, similar to the ones used by lesser teams in the Tour of Britain. The positives are obvious - the van is your home, and on steep inclines you can mimic the speed of Alessandro Petacchi on the Ventoux. Traditionally the vehicle of choice for hippy free-thinkers, it's worth checking out availability before they receive a call from Brian Holm. It should also be pointed out that in Yorkshire the Summer of Love meant gift wrapping your partner's tripe. www.jollycampervans.co.uk
The Temple Folly, Swinithwaite
This 18th century folly with views stretching for miles is said to have been built by a landowner so ladies could watch the progress of hunts - so should be handy for watching Omega PharmaQuickStep reeling in a breakaway. The accommodation, comprising two octagonal rooms, takes its name from the nearby former site of an 11th century preceptory of the Knights Templar Order, Sir Wiggo of Sky being an honorary member. www.templefolly.co.uk
The New Inn, Cropton
At the end of a hard day's standing at the side of the road being pelted with novelty gifts by unnaturally upbeat continental promotion girls wondering why everyone's so pasty, what better way to relax than a good old pint of Yorkshire bitter. No finer choice then than the New Inn at Cropton, which has its own brewery at the bottom of the garden. Remember, though, it may be frowned upon to create your own Dutch Corner by the Gents. www.newinncropton.co.uk
Woodland Shacks, Fearby
With sweeping views across valley and moorland, and insulated by sheep's wool and warmed by woodburners, the word 'shack', in this case, should not conjure up images of Claude Jeremiah Greengrass. These are six hand-crafted, roundwood timber frame buildings, perfect for anyone combining the twin interests of cycling and Little House On The Prairie. www.thebivouac.co.uk
Ripley Castle - Ripley
Not strictly somewhere you can stay - use The Boar's Head nearby - but worth considering for a base as a) it's guaranteed a typically clunking mention in Paul Sherwen's commentary, and b) they do Virgin balloon flights there. What a way to see the peloton thundering towards Harrogate. Just look out for the helicopters. And dropping a sandbag through the commissaire's sun-roof. www.virginballoonflights.co.uk
Woofles Hotel, nr Hull
The Tour de France has long been bedevilled by manic mutts straying into the path of riders. So ease the guilt of not bringing your bow-wow by diverting the short step to Woofles, like Raffles only with poop bags. Woofles is a purpose built deluxe doggy hotel where canine guests luxuriate in their own private bedrooms, with piped music, under-floor heating, and an enclosed roofed terrace/balcony. With Tour accommodation at a premium, it's coming to something when your poodle's got room service and you're wild camping in a wood near Thirsk. Guests must be fully vaccinated and have had Kennel Cough prevention, which may rule out Belgians. www.woofleshotel.co.uk