Thibaut Pinot: Heaven and hell at the Tour de France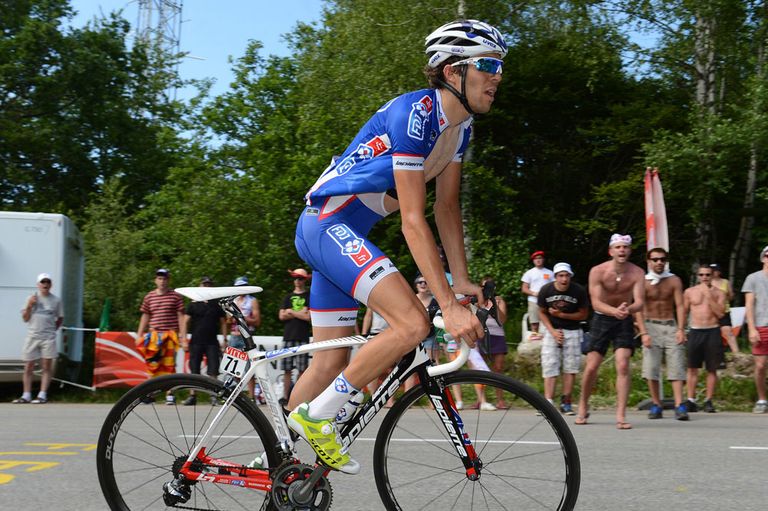 Thibaut Pinot was the revelation of the 2012 Tour de France. The young FDJ rider won the solo Alpine stage Porrentruy and finished 10th overall on general classification. France and his team had high hopes for him. Sadly, he cracked in the Pyrenees. And wasn't happy.
"You guys spent the whole year praising me to the skies, the whole year since the end of the 2012 Tour and now, after two days, you're slaughtering me. What do you want me to do? What do you want me to say? I've spent a whole year preparing to ride for the GC on the Tour and it hasn't worked out.
"To be honest with you, at the moment, all I really want to do is pack my bags and go home. But this is the Tour and you don't do that."
Thus spake Thibaut Pinot, who went from Great French Hope to Angry Young Man in the space of two days. But you had to feel sorry for the 23 year old, who made the cardinal sin of having a great debut Tour and getting everyone worked up.
"I cracked on the descent, something in my head just snapped. People have been talking to me for a year and building me up and no doubt it has played a part, I do feel like cracked, mentally, so I'm going to have to get over that. But now, really, people are saying I should try to get in breaks? I'm not even sure I know how to do that anymore."
His team mate, French national champion Arthur Vichot, was as mystified as anyone else over Pinot's reversal of form and fortune.
"It's not what any of us expected," said Vichot in Bagneres-de-Bigorre at the end of a stage where his erstwhile team leader had lost another 25 minutes. "It's up to us, as a team, to pick ourselves up, concentrate on the job at hand and show everyone what we are actually capable of."
"Actually, in one sense it's a new race that started for us now, we'll have more freedom to race for stages, so we have to recover from the efforts we have already made (for Pinot) and see what we can do before Paris."
Related links
Tour de France 2013: Cycling Weekly's coverage index
Read Cycling Weekly magazine on the day of release wherever you are in the world with our iPad and iPhone edition - International digital edition, UK digital edition. And if you like us, rate us!