Tour de France on TV: ITV4 schedule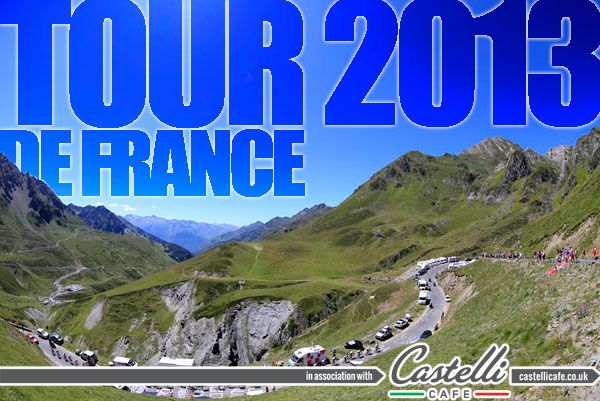 British digital television channel ITV4 is showing a comprehensive schedule of live broadcasts and edited highlights of this year's Tour de France, starting on Saturday, June 29.
Each stage is covered with a live broadcast, followed by an edited highlights package in the evening, usually between 7-8pm.
All broadcast times shown are British Summer Time. Schedule may be subject to change. Check the ITV4 Tour de France website for more details.
Tour de France 2013: ITV4 schedule
Saturday June 29, 10:55-16:30, Stage one LIVE
Saturday June 29, 19:00-20:00, Stage one highlights
Sunday June 30, 13:00-16:30, Stage two LIVE
Sunday June 30, 19:00-20:00, Stage two highlights
Monday July 1, 13:00-15:30, Stage three LIVE
Monday July 1, 19:00-20:00, Stage three highlights
Tuesday July 2, 14:30-16:30, Stage four LIVE
Tuesday July 2, 19:00-20:00, Stage four highlights
Wednesday July 3, 14:00-17:00, Stage five LIVE
Wednesday July 3, 19:00-20:00, Stage five highlights
Thursday July 4, 14:00-16:30, Stage six LIVE
Thursday July 4, 19:00-20:00, Stage six highlights
Friday July 5, 14:00-16:30, Stage seven LIVE
Friday July 5, 19:00-20:00, Stage seven highlights
Saturday July 6, 13:30-16:30, Stage eight LIVE
Saturday July 6, 19:00-20:00, Stage eight highlights
Sunday July 7, 1200-1600, Stage nine LIVE
Sunday July 7, 1900-2000, Stage nine highlights
Monday July 8, Rest day, no live coverage
Monday July 8, 19:00-20:00, Tour de France highlights
Tuesday July 9, 14:00-16:30, Stage 10 LIVE
Tuesday July 9, 19:00-20:00, Stage 10 highlights
Wednesday July 10, 14:00-17:00, Stage 11 LIVE
Wednesday July 10, 19:00-20:00, Stage 11 highlights
Thursday July 11, 14:00-16:30, Stage 12 LIVE
Thursday July 11, 19:00-20:00, Stage 12 highlights
Friday July 12, 14:00-16:30, Stage 13 LIVE
Friday July 12, 19:00-20:00, Stage 12 highlights
Saturday July 13, 14:00-16:30, Stage 14 LIVE
Saturday July 13, 19:00-20:00, Stage 14 highlights
Sunday July 14, 13:30-16:30, Stage 15 LIVE
Sunday July 14, 19:00-20:00, Stage 15 highlights
Monday July 15, Rest day, no live coverage
Monday July 15, 19:00-20:00, Tour de France highlights
Tuesday July 16, 14:00-16:30, Stage 16 LIVE
Tuesday July 16, 19:00-20:00, Stage 16 highlights
Wednesday July 17, 14:00-16:30, Stage 17 LIVE
Wednesday July 17, 19:00-20:00, Stage 17 highlights
Thursday July 18, 13:00-17:00, Stage 18 LIVE
Thursday July 18, 19:00-20:00, Stage 18 highlights
Friday July 19, 10:00-16:30, Stage 19 LIVE
Friday July 19, 19:00-20:00, Stage 19 highlights
Saturday July 20, 14:00-16:30, Stage 20 LIVE
Saturday July 20, 19:00-20:00, Stage 20 highlights
Sunday July 21, 16:30-21:00, Stage 21 LIVE
Sunday July 21, 23:00-00:00, Stage 21 highlights
Related links
Tour de France 2013 coverage index - including stage previews, latest new, reports, photos and more