Tour media watch: British papers turn yellow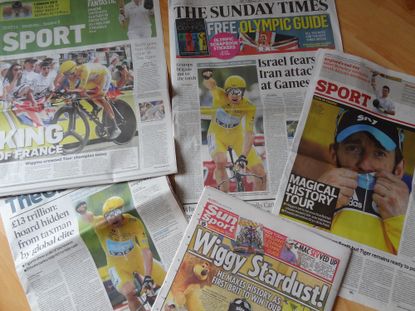 The British papers were full of cycling today as they got a sense of what Bradley Wiggins was set to achieve in Paris.
The Sunday Times lead with a big picture of Wiggins, in yellow, punching the air at the end of Saturday's time trial. The small caption above it read: 'That's The Tour Done, Now For London'.
The coverage is testament to what Wiggins and Team Sky have achieved at this year's Tour. The Open is currently taking place at Royal Lytham and St Annes and we're just six days away from the start of the Olympic Games.
It took a while for a lot of the mainstream press to wake up to Wiggins, as although a lot of them have writers covering the whole of the race, it hasn't hit many of the front pages until the last week.
Radio and TV news bulletins on Sunday morning had Wiggins as one of their top stories, and the BBC's website had him in prime position, along with their live text coverage from the race.
ITV covered both Saturday's and Sunday's stages live on their main channel (as well as on ITV4 that has been covering it all the way through).
Sunday Times
Picture that dominated the cover of the sports pages was Wiggins in full flow in the time trial with British fans banging the hoardings. The headline was King of France. The next four pages covered the golf, but then a double page spread, followed by a half page covered all topics from his second stage win, to his history and Dave Brailsford's approach to his roles at British Cycling and Team Sky
The Observer
Again Wiggins is on the cover and the pending Tour win makes it on to page seven in the paper's main section. Flick to the sports section and picture of a teary eyed Wiggins kissing the yellow jersey is accompanied by the headline Magical History Tour. Inside there's four pages of cycling coverage, including a column by Robert Millar who finished fourth in the Tour in 1984.
The Sun on Sunday
Wiggins punching the air as he crosses the line in yesterday's time trial dominates page 9. 'Wiggy Stardust' is the headline on the back page and there's more on the inside two pages with another headline 'Wonder Wiggy admits he cried..... Wheel Tears'.
The Independent
More great coverage with Wiggins getting a
small strap at the top of the Inde's cover saying 'History man!'
Wiggins's time trial win, that of course garauntees overall victory
today is given pages six and seven. Another four pages, plus the cover,
grace the sports pages inside. Again, covering his cycling background as
well as the action from France.The British cyclists are also prominent in many of the paper's Olympic pages that are carried in today's papers.
Thank you for reading 20 articles this month* Join now for unlimited access
Enjoy your first month for just £1 / $1 / €1
*Read 5 free articles per month without a subscription
Join now for unlimited access
Try first month for just £1 / $1 / €1