Vincenzo Nibali: The Tour de France is not won yet
In spite of the fact that he put his closest rivals to the sword, won the toughest stage of the race so far and saw Alberto Contador crash in front of him. Vincenzo Nibali says he hasn't won the Tour yet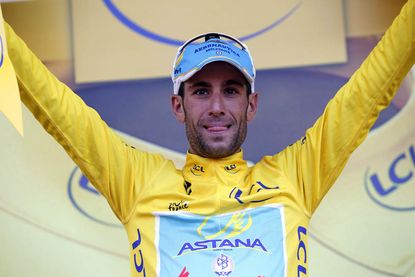 (Image credit: Graham Watson)
"It was one of the hardest days I have spent on a bike, but I'm really happy with the way it went and with the way the team rode," said Vincenzo Nibali, wearing the Tour de France leader's yellow jersey he had loaned out to Tony Gallopin of Lotto for a day.
"The team was great, all day and (Michele) Scarponi did an amazing job, even after his crash. He basically went into a corner way too fast and, although I was behind him, I could tell it was much too fast. But he still got back up and helped me. He was fantastic, but the crashes and weather made it hard today."
Inevitably, Alberto Contador's crash, which saw him fracture his right shin (rather comically bandaged with some gauze as he tried - astonishingly - to ride on) has removed a lot of the suspense from the race as well as a serious rival for the yellow jersey.
"I don't really know what happened to Alberto, he was behind me, I was on Bennati's wheel then he (Contador) came past me on the the descent and three seconds later he had crashed in front of me. I really don't know how I managed to avoid him, it was really close, we were doing 60kph and he hit the ground hard. It's a real shame for Alberto, I was looking forward to the fight."
Sadly, the much anticipated three-way battle between Chris Froome, Contador and Nibali is not going to happen now, even though Nibali claimed he was ready and willing to take on all comers.
"I had been waiting for Contador to attack since the Arenberg stage, but we always had a team good enough to control the race and hold on to the jersey. My serious rivals like (Richie) Porte and (Alejandro) Valverde are behind me now so I think we will look to 'manage' them with the lead that I have."
Nibali, big hitter that he is and now, more than ever the 'patron' of this Tour exerted his influence on the bunch before he was even in the overall race lead. When news came through the riders' radios, Nibali spoke to Porte and they decided to ease back to see if Contador was going to make it back to the race.
"I heard on my earpiece what was happening and I spoke to the car to find out what was happening so we slowed for a short time, though it was Lotto who were on the front at that point. In the end, we had to pick up the pace again because there was a break out front with Tony Martin and Michael Kwiatkowski that was a danger with 4-30, so we couldn't let it gain more time."
At which point, Astana rode, chased down the break and set up Nibali for a glorious attack, stage win and reclamation of the yellow jersey.
"How is my form? Is this the best I've been? I don't know, but I'd say that I am in the same form that I had last year when I won the Giro. I worked hard with my trainer (Paolo) Slongo to prepare to come to perfect form here at the Tour. I know people will say that without Alberto and Chris here there will always be questions, but I think I showed today with the gap I won by that I had the form to fight it out with them."
Given the demonstration Nibali and his team put on in the one of the hardest stages of the 2014 Tour, it's clear that the Italian is in fantastic shape and the battle for the Tour would have been a spectacular one but, as new 'maillot jaune' said, "There are always crashes, it's part of racing, I've crashed myself plenty of times but... that's sport."
Let the battle for the minor placings begin!
Vincenzo Nibali wins mountain stage to move back into yellow jersey as Alberto Contador withdraws due to injury
Thank you for reading 20 articles this month* Join now for unlimited access
Enjoy your first month for just £1 / $1 / €1
*Read 5 free articles per month without a subscription
Join now for unlimited access
Try first month for just £1 / $1 / €1