Vincenzo Nibali's controversial Italian champion's jersey
Vincenzo Nibali's national champion's jersey only features red, white and green panel on front at the Tour de France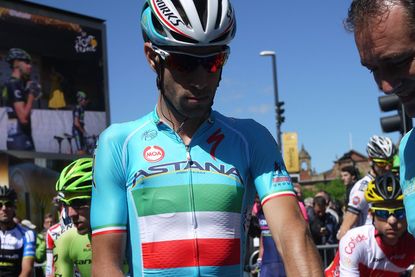 (Image credit: Gregor Brown)
Vincenzo Nibali's jersey is creating controversy at home in Italy as it features more turquoise than the red, white and green of national champion.
"An all tricolore jersey would be better and offer more visibility for the title that I won," Nibali said. "Many of other teams, though, are doing the same thing. Look at Peter Sagan in his Slovakian jersey, it looks almost like a normal jersey."
Red, white and green stripes cross the jersey Nibali wore at the start on Saturday morning in Leeds, but team Astana's turquoise dominates the rest of his body – from his legs to his helmet. It hardly compares to the red, white and blue stripes that cover France's Arnaud Démare's kit.
"It's fine as it is, though, the stripes are visible," Nibali said. "In cycling today that's how it is. With many important sponsors that are putting in a lot of money, they want their names to be visible. Even to have the design I have, the team had to cut an important sponsor, Air Astana, from the jersey."
The same problem came up when Filippo Pozzato, then with Russian team Katusha, won the national championships in 2009 and came to the Tour with the Kremlin coloured red, white and green on his jersey. The team quickly changed the design. Giovanni Visconti's jersey carried the same low-visibility design after he won in 2011.
Astana is not a brand, but the capital of Kazakhstan. A group of local companies sponsor the team and use the name of the capital.
"It would leave a bad taste in everyone's mouth' mouths to have Astana written across the Italian stripes," Italian cycling federation (FCI) president, Renato Di Rocco told La Gazzetta dello Sport newspaper.
"It wasn't feasible to make the tricolore larger over the shoulders and chest. At least how it is, its clean and you can see the stripes."
Before the race hits the high mountains where Nibali plans to take on Chris Froome and Alberto Contador, he could push for a change to make himself a more visible Italian champion. He said it could change in the coming days.
"I'd rather have a full tricolore jersey like the one I wore on the podium after the road race last week, but it's not easy due to the sponsors that are involved in the sport," Nibali added.
"It's not just my decision, but one for more important people – the federation and the UCI – I don't know. I'd rather a full tricolore jersey, though."
Thank you for reading 20 articles this month* Join now for unlimited access
Enjoy your first month for just £1 / $1 / €1
*Read 5 free articles per month without a subscription
Join now for unlimited access
Try first month for just £1 / $1 / €1