Where to watch the Tour de France 2015: TV guide
The Tour de France 2015 is well underway, and British Eurosport and ITV will be showing live TV coverage and highlights from every stage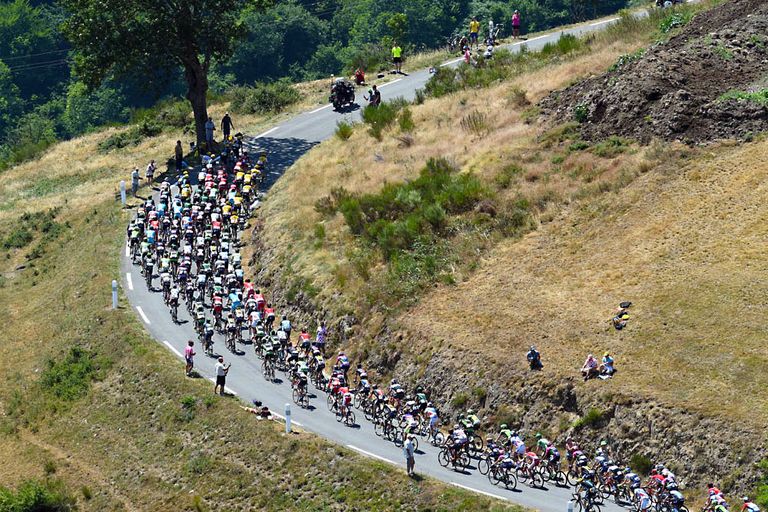 We're now well into what looks to be one of the most intriguing editions of the Tour de France in years. But don't worry if you couldn't get over to Utrecht or pop up the Tourmalet - there will be plenty of opportunities to catch the best of the action on television here in the UK.
British Eurosport and ITV have confirmed their schedules for the early part of the Tour, with both broadcasters promising lots of live coverage and a string of highlights shows.
What's more, there will be daily TV highlights from the racing alongside reports and reaction right here on the Cycling Weekly website, as well as loads more to watch at our dedicated Tour video page.
>>> Everything you need to know about the 2015 Tour de France
Note: broadcast times may be subject to change.
Monday July 20 - Stage 16: Bourg-de-Péage - Gap
Live coverage
ITV4: 14.00-16.30
British Eurosport: 13:15-16:30
Highlights
ITV4: 19.00-20.00
British Eurosport: 08:30-09:30, 12:00-13:00 (Stage 15); 23:30-00:30 (Stage 16)
British Eurosport 2: 02:00-04:30, 06:00-07:00 (Stage 15); 19:00-20:30 (Stage 16)
Tuesday July 21 - Rest Day: Gap
Highlights
ITV4: 19.00 - 20.00 (Second week)
British Eurosport: 08.30-09.30, 15.00-16.30, 19.00-19.30 (Stage 16)
British Eurosport 2: 10.00-11.00, 12.45-14-15 (Stage 16)
Wed July 22 - Stage 17: Digne-les-Bains – Pra Loup
Live coverage
ITV4: 13.30-16.30
British Eurosport: 13:00-16:30
Highlights
ITV4: 19.00-20.00
British Eurosport: 07:30-08:45 (Stage 16), 11:45-12:45 (Stage 16); 21.00-22.00 (Stage 17), 23:30-00:30 (Stage 17)
British Eurosport 2: 02:00-05:00 (Stage 16), 06:00-07:00 (Stage 16); 10.00-11.00 (Stage 16), 19:00-20:30 (Stage 17)
Thu July 23 - Stage 18: Gap – Saint-Jean-de-Maurienne
Live coverage
ITV4: 13.30-16.30
British Eurosport: 13:00-16:30
Highlights
ITV4: 19.00-20.00
British Eurosport: 08:45-09:45, 11.45-12:45 (Stage 17); 21.00-22.00 (Stage 18); 23:00-00:30 (Stage 18)
British Eurosport 2: 02:00-05:00 (Stage 17), 06:00-07:00 (Stage 17); 19:00-20:30 (Stage 18)
Fri July 24 - Stage 19: St-Jean-de-Maurienne – La Toussuire
Live coverage
ITV4: 13.00-17.00
British Eurosport: 12:15-16:45
Highlights
ITV4: 19.00-20.00
British Eurosport: 08:00-09:00, 11.00-12:00 (Stage 18); 21.00-22.00 (Stage 19); 23:00-00:30 (Stage 19)
British Eurosport 2: 02:00-05:00 (Stage 18), 06:00-07:30 (Stage 18); 19:00-20:30 (Stage 19)
Sat July 25 - Stage 20: Modane Valfréjus – Alpe d'Huez
Live coverage
ITV4: 12.00-16.00
British Eurosport: 11:45-16:00
Highlights
ITV4: 19.00-20.00
British Eurosport: 10.45-11.45 (Stage 19)
British Eurosport 2: 02:00-05:00 (Stage 19), 06:00-07:30 (Stage 19)
Sun July 26 - Stage 21: Sèvres – Paris Champs-Élysées
Live coverage
ITV4: 16.00-19.00
British Eurosport: 15.15-18.30
Highlights
ITV4: 21.00-22.00
British Eurosport: 12.00-13:00 (Stage 20); 20.00-21.30 (Stage 20)
British Eurosport 2: 02:30-03:30 (Stage 20)