Marcel Kittel: No pressure on me at the Tour of Britain
German sprinter says that he is relaxed having achieved his season's big goals.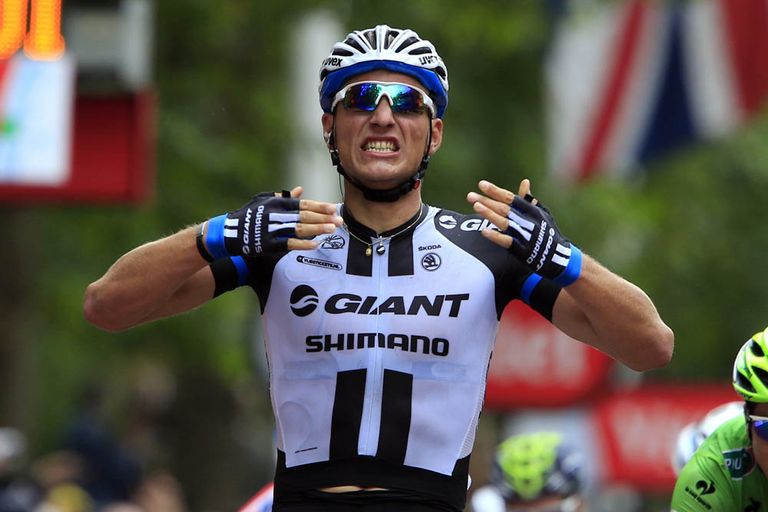 (Image credit: Graham Watson)
Marcel Kittel is not feeling any burden of expectation ahead of his duel with Mark Cavendish in the Tour of Britain's sprint stages.
The Giant-Shimano powerhouse won four stages of this year's Tour de France but was denied a battle with Cavendish who crashed out on stage one.
The pair shook hands backstage at Saturday's team presentation, and Kittel admitted that , with the season soon reaching its climax, he is not placing any pressure on himself to edge out the Manxman in Cavendish's home race, which starts with a circuit race around Liverpool on Sunday afternoon.
Don't expect the German to go lightly on his rival, though. "I'm looking forward to race against Cav again, but as I've said before, it's not in my character to put too much pressure on myself now," he said.
"The biggest highlight of the calendar, the Tour de France, is over. The tension is not as high anymore.
"It would be nice to end on a high. I'm looking for victories and if there is a possibility I would like to get some.
"I can have a nice time here on the bike and I would like to do some sprinting."
Kittel admits to not having scouted the stages. "The first two stages are normally sprints and also the last stage. In between I have no idea how hard it will be but I guess it will not be easy," he added.
Conversations with fellow riders have whetted his excitement for the week ahead: "It's only my second time in Great Britain so it is already special for me.
"I'm looking forward to the race. I've talked to some other guys who have already experienced the race and they were all full of positive words."