UCI could use thermal imaging to detect motors at the Tour de France
The UCI says it will implement additional methods of detecting motors at the Tour de France, with thermal imaging reported to be used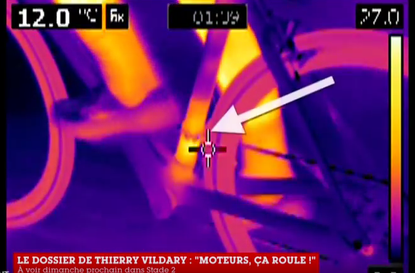 Cycling's governing body, the UCI, has confirmed that it will conduct between 3,000 and 4,000 tests for motors at the Tour de France next month, with thermal imaging technology reported to be used.
While the UCI didn't specifically mention thermal imaging, but a statement released on Monday confirmed that "additional methods of detection" will be employed.
French newspaper Le Journal du Dimanche claims that one thermal camera will be mounted on a motorbike to detect motors during the race - a device loaned to organiser ASO by the French military.
The UCI will also use the magnetic wave scanning technology it has had in place in recent months.
UCI president Brian Cookson said: "Since the beginning of the year, we are sending a clear message which is that there is literally no-where to hide for anyone foolish enough to attempt to cheat in this way.
"A modified bike is extremely easy to detect with our scanners and we will continue to deploy them extensively throughout the Tour and the rest of the season."
Thank you for reading 20 articles this month* Join now for unlimited access
Enjoy your first month for just £1 / $1 / €1
*Read 5 free articles per month without a subscription
Join now for unlimited access
Try first month for just £1 / $1 / €1