UCI dismisses the effectiveness of thermal imaging cameras for detecting motors in bikes
Governing body not convinced by the claims of a recent French TV report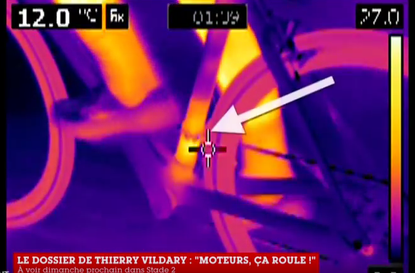 The UCI has dismissed the effectiveness of thermal imaging camera for detecting motors in bikes, the method used by a recent report that claimed that riders were using motors in Strade Bianche and Coppi e Bartali, saying that its method is the most effective available.
>>> Everything you need to know about the motorised doping scandal
The UCI says that as well as the scanning method that it currently uses, which uses an iPad, adaptor, and custom software to detect magnetic resonance, it tested a number alternative methods in 2015, including thermal imaging, x-ray, and ultrasonic testing, all of which proved to be "less effective".
"In certain circumstances, thermal imaging can indeed detect a motor, however, only when the motor is in use or just been used and is still warm. This makes pre- or post-race checks ineffective", said the UCI. "Thermal imaging will also pick up heat signals from other sources, including the rider's body, heat generated from friction in bearings and heat from warm tyres.
>>> Electric motor system used by banned Belgian cyclist revealed by UCI
"The heat patterns shown on a recent documentary which deployed thermal imaging at a bike race are consistent with normal heat from moving parts. The UCI also found that it is simple and cheap to install effective thermal screening devices which render this kind of testing ineffective. Thermal imaging also only works on line of sight and the scan must be alongside a moving bike during the scanning process. For these reasons, thermal imaging was not pursued."
Watch: the industry reacts to the mechanical doping scandal
The UCI also says that it assessed the merits of x-ray and ultrasonic testing, but dismissed these for similar reasons.
"[X-ray]proved to be ineffective due to the complex logistics inherent in its deployment. Although effective in the right conditions, the equipment is cumbersome, expensive, relatively slow and in many jurisdictions subject to regulations which would constrain or prevent its use.
>>> Tour de France boss: motors are no longer a rumour, they exist
"[Ultrasonic testing] was also theoretically promising but proved ineffective because of the widely differing thicknesses and density of bike frames and other components. This created calibration issues which would make the method impossible to use in an environment where bikes from many different manufacturers are used and whose methods of fabrication are constantly evolving."
The statement comes three days after the UCI handed down a six year ban and a £14,000 fine to Fiemke Van den Driessche, the young Belgian rider who was found to have a motor in a bike at the 2016 Cyclo-cross World Championships on the very first day that the UCI used its new motor detection method.
Thank you for reading 20 articles this month* Join now for unlimited access
Enjoy your first month for just £1 / $1 / €1
*Read 5 free articles per month without a subscription
Join now for unlimited access
Try first month for just £1 / $1 / €1