Riders used motors in Strade Bianche and Coppi e Bartali, alleges report
An investigation by French television's Stade 2 and Italian newspaper Corriere della Sera claim that seven riders were using motors at the Italian races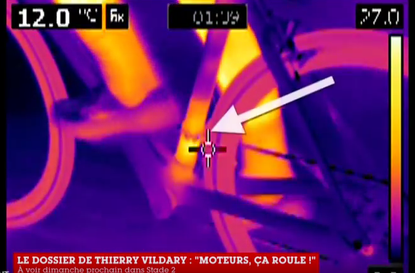 A joint investigation between French television's Stade 2 and Italian newspaper Corriere della Sera claims that some riders are using motors within their bikes in top professional races.
The investigation, which will be shown in full on French TV on Sunday night, says that a heat sensor set-up to look like a video camera at the 2016 Strade Bianche one-day race and the Coppi e Bartali stage race were able to show seven different motors in use.
>>> Everything you need to know about the motorised doping scandal
Five of those motors were alleged to be within in the seat tube, while the remained were in the hub of the rear wheel, with orange heat-spots alleged to demonstrate where the motors are.
The report claims that the heat generated by the bikes could only have been created by motors, having consulted experts with their images from the races. The UCI currently uses a tablet technology, which reportedly detects magnetic fields, while it is unknown whether it uses heat sensors to check for motors.
Investigators Thierry Vildary and Marco Bonarrigo also looked at more advanced types of mechanical doping, and spoke to Hungarian Istvan Varjas, who is alleged to be the engineer and supplier of motors to riders.
>>> Are electromagnetic wheels the leading form of 'mechanical doping'?
Varjas claimed that wheels with Neodynium magnetic plates hidden within the deep-section rims was the most advanced and undetectable by UCI controls.
A magnet driven by a battery under the seat then generates an extra 60 watts of power, often the difference between two riders on a hard climb. The wheels can be activated and adjusted by bluetooth devices the report says, and can only be spotted by a high-powered magentic field detector. That technology costs €50,000, said Varjas, and is available to very few athletes.
It's not the first time that the rumour of electromagnetic wheels has emerged, with a report in Gazzetta dello Sport in February claiming it had spoken to a 'Mr X', about the prevalence of the technology.
Varjas also explained to the journalists in the latest report that small motors, only around 5cm wide, can be placed in the bottom bracket or rear hub and cassette for respective front wheel and rear wheel assistance, with adjustable power of up to 250 watts. The report claims that "they are perfect for athletes with high cadence."
The only confirmed case of mechanical cheating has so far come at the World Cyclo-Cross Championships in January this year, when junior female rider Femke Van den Driessche was caught with one in her spare bike.
The Stade 2 report is set to be shown in full at 5-25pm CET on Sunday evening.
Thank you for reading 20 articles this month* Join now for unlimited access
Enjoy your first month for just £1 / $1 / €1
*Read 5 free articles per month without a subscription
Join now for unlimited access
Try first month for just £1 / $1 / €1