Chris Froome 'thankful' despite hip pain after Vuelta a España crash
The race leader says he'll be able to continue as normal despite crashing twice on stage 12 of the Vuelta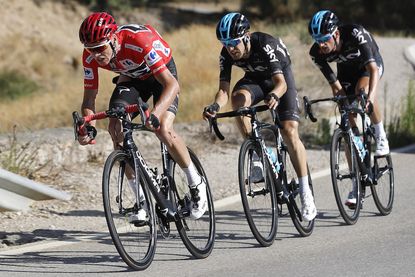 (Image credit: Luis Angel Gomez / Photogomezsport)
Chris Froome feels the most pain around his hip after crashing on stage 12 on the Vuelta a España, but is "thankful" to continue on today in the race leader's red jersey.
Team Sky's captain fell twice on the descent leading to the finish on Thursday to Antequera. This morning he gingerly walked up to sign in and back down the steps from the podium with his right knee and left elbow bandaged.
"I got to sleep all right last night," Froome said. "I didn't really sleep on my side! I slept on my back.
"It is probably around my hips and that's where I feel it the worst. The knee is a bit superficial and it just needs keeping clean."
Team Sky's Wout Poels and Mikel Nieve helped him limit the damages after the crash yesterday. His team-mates pulled on the front while Alberto Contador and Vincenzo Nibali were gaining time further down the road.
Chris Froome lost 42 seconds to Contador, who had attacked before the crashes. And he lost 20 seconds to Nibali and a group of favourites. He leads the race by 59 seconds on Nibali.
"Of course it wasn't much fun crashing, but I'm thankful it wasn't more serious and I'm feeling pretty good this morning," Froome said.
"There was some big panic at that moment knowing they were going full-gas in front as well. I was just thankful to have my team-mates with me and we managed the situation as best we could."
In his favour the Vuelta covers one of its rare flat days today to finish in Tomares. The stage should see the sprinters battle for the victory.
Froome added, "Every day in this Vuelta has been a big battle and I expect today will be the same."
This weekend the race continues with two summit finishes followed by a rest day on Monday and the final week. After racing and winning four Tour de France titles, Froome is trying to win his first Vuelta a España.
"He's fine but probably a bit sore today," Sky sports director Nicolas Portal explained. "The first few kilometres will be a bit painful but after that, I think he'll be OK.
"It's better to have a day like this then to have a full hard day, that's for sure.
"He lost a bit of skin and that's it. Besides that it was just a normal crash and that's it."
Thank you for reading 20 articles this month* Join now for unlimited access
Enjoy your first month for just £1 / $1 / €1
*Read 5 free articles per month without a subscription
Join now for unlimited access
Try first month for just £1 / $1 / €1