Today's Vuelta a España stage finishes on an incredible 31% climb, and these photos show just how tough it is
Alto de los Machucos will be a summit finish at the end of stage 17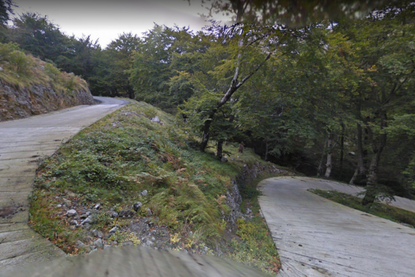 (Image credit: Google)
Most years the organisers of the Vuelta a España surprise us with some brutally tough new climb, but for 2017 they look to have outdone themselves with the Alto de los Machucos on stage 17.
Located deep in the mountainous countryside of Cantabria in the north of the country, this is nine kilometre climb could cause just as much damage as the better-known Sierra Nevada and Alto de l'Angliru which are also included in this year's route.
The reason is that hidden within its nine per cent average gradient are some brutally steep slopes that ramp up to between 28 and 31 per cent (depending on your protractor).
The climb is tackled on stage 17 of the race, a day after Chris Froome (Team Sky) further stamped his authority on the race on stage 16's 40.2km individual time trial, increasing his lead to nearly two minutes.
>>> Seven toughest climbs of the 2017 Vuelta a España
Starting inland at Villadiego, the riders will tackle two climbs - the second-category Portillo de Lunada and the first-category Puerto de Alisas - before starting the Alto de los Machucos from the town of Arredondo with roughly 13km remaining.
The first few kilometres are steady with the odd downhill section, before the climb starts in earnest with a sudden 17 per cent ramp with seven kilometres to the finish.
Watch: Vuelta a España essential guide
That heralds the start of the toughest part of the climb, with the gradient rarely dropping below 20 per cent for the next two kilometres, and the steepest ramps of up to 31 per cent also in this section.
To make things worse, the steepest parts of the climbs are surfaced with concretes and include little ruts every foot or so.
>>> Vuelta a España route 2017: key climbs and what to expect
That's great if you're in a vehicle struggling for grip the wet, but not so nice if you're a bike rider struggling to hold on to any semblance of forward momentum.
Once that section is over, the riders will enjoy a slight respite at around six per cent for a kilometre, before a three-kilometre section that averages 12 per cent, but has a very uneven gradient to include a couple more ramps of more than 20 per cent.
Finally, like on the Angliru, the riders can enjoy a short donwnhill section towards the finish, before a flat-ish run to the line at the Monumento Vaca Pasiega.
A few might hope that this brutally steep climb could put Froome out of his comfort zone, but given his dominance in the race so far, it's hard to see anyone being able to challenge his grip on the red jersey.
Thank you for reading 20 articles this month* Join now for unlimited access
Enjoy your first month for just £1 / $1 / €1
*Read 5 free articles per month without a subscription
Join now for unlimited access
Try first month for just £1 / $1 / €1