Trek Factory Racing's Markel Irizar: Disc brakes will be the future
The first test of a disc-equipped bike on a Grand Tour impressed its rider, but opens up a Pandora's Box of complications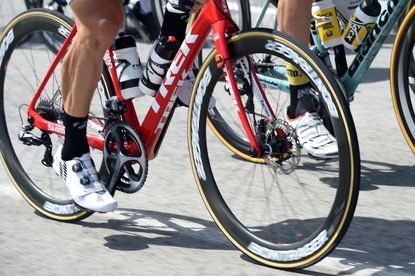 (Image credit: Watson)
On Stage Eight of the Vuelta a España, Trek Factory Racing's Markel Irizar rode a disc equipped Trek Domane. This was the first outing for a disc-equipped bike in a Grand Tour and with plenty of descents and high temperatures, a good opportunity to prove their efficacy.
>>> First sighting of disc brakes in the peloton at Eneco Tour
Irizar told Eurosport that he found braking much better than a normal rim brake. He also discounted the weight penalty, saying that "they are heavier but the braking is much better.
"I think that they will be the future", he concluded.
Although the brakes weigh around 500g more than rim brake calipers, he pointed out that the UCI's 6.8kg minimum weight limit meant that the actual weight penalty was much less.
One complication of disc brakes which will need to be overcome is the numerous standards used. Whereas neutral service only has to carry replacement front and rear rim braked wheels to be swapped in case of a puncture, there are many more potential options with discs.
Trek's Domane has front and rear thru axles. The rear is 142x12mm although many disc braked bikes come with a more standard 135mm axle spacing – with either a thru axle or a quick release. The Domane's front wheel runs on a 15mm thru axle, which at least seems to be becoming something of a standard. Many bikes use 160mm rotors front and rear too, although Sky's disc-equipped Dogma ridden by Bernie Eisel at the Eneco Tour was equipped with 140mm discs.
>>> Are discs necessary on pro bikes?
These complications mean that a puncture currently requires a bike change, which is slower than a wheel change and there are fewer complete bikes than wheels available in a race too.
Irizar's bike apparently came out well from the trial and he told Eurosport that he was keen to use it in other stages. Pros have raised the risk of locking up a wheel and the difference in braking power leading to crashes on descents. A crash involving contact with a hot brake disc is likely to be painful too.
>>> Cervelo R3 Disc to hit peloton
The real test will be a high mountain stage in wet conditions – the next couple of weeks of the Vuelta should provide plenty of the former and quite likely the latter too.
Thank you for reading 20 articles this month* Join now for unlimited access
Enjoy your first month for just £1 / $1 / €1
*Read 5 free articles per month without a subscription
Join now for unlimited access
Try first month for just £1 / $1 / €1