Watch: Alex Richardson and Rebecca Durrell win in 2018 Lincoln Grand Prix
Catch up with the action from the 2018 Lincoln Grand Prix, which took place on Sunday, May 13 - Photos by Andy Jones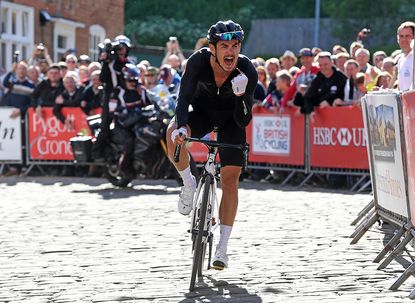 (Image credit: Andy Jones)
https://youtu.be/R76GofnV_bw
Alex Richardson (Unattached) took a solo victory in the gruelling 2018 Lincoln Grand Prix on Sunday, which features the famous cobbled climb of Michaelgate.
Richardson had been in the thick of the action for much of the men's race, forming part of the early escape group alongside Edmund Bradbury (JLT Condor), Charlie Tanfield (Canyon Eisberg), Connor Swift (Madison Genesis) and Tom Pidcock (Team Wiggins).
Richardson and Bradbury were then dropped from the break later in the race, with the remainder of their former escape companions also getting swept up.
Richardson then attacked to go solo on the second-to-last lap, pulling away from his rivals to take the victory.
Andy Tennant (Canyon Eisberg) came home for second place, 16 seconds adrift of Richardson. Alistair Slater (JLT Condor) completed the podium in third.
Johnny McEvoy (Madison Genesis) took the overall victory in the HSBC British Cycling Spring Cup after finishing in 11th place in Lincoln.
https://youtu.be/J0IHrV5t8Ts
Local rider Rebecca Durrell (Storey Racing) claimed the victory in the women's Lincoln Grand Prix.
Durrell had been part of the day's early escape group alongside Anna Henderson (Cycle Team OnForm) and Nikki Juniper (NJC-Biemme-Echelon), later being joined by Jennifer George (Torelli-Brother), Molly Patch (Fusion RT Veloperformance) and Manon Lloyd (Trek-Drops).
As the race progressed, first Patch and then George were dropped out of the break. Behind them, the peloton had splintered into several groups.
As the riders in the lead group started to tire, they were caught by further chase groups to form a group of 14.
However, despite their race-long efforts, it was the original three breakaway riders who prevailed in the finale with Durrell launching to the line for the victory with Henderson in second and Juniper in third.
Results
Lincoln Grand Prix 2018
Men's race
1. Alexandar Richardson (Unattached), in 3-54-00
2. Andrew Tennant (Canyon Eisberg), at 16 secs
3. Alistair Slater (JLT Condor), at 24 secs
4. Mark Downey (Team Wiggins), at 28 secs
5. James Oram (One Pro Cycling), at 29 secs
6. Connor Swift (Maidson Genesis), at 30 secs
7. Max Stedman (Canyon Eisberg), at 38 secs
8. Gorge Pym (Madison Genesis), at 41 secs
9. Ian Bibby (JLT Condor), at 1-16
10. Gabriel Cullaigh (Team Wiggins), at 1-18
Women's race
1. Rebecca Durrell (Storey Racing) in 2-41-17
2. Anna Henderson (Cycle Team OnForm), at 2 secs
3. Nicola Juniper (NJC-Biemme-Echelon), at 4 secs
4. Eleanor Dickinson (Team Breeze), at 5 secs
5. Pfeiffer Georgi (Liv Cycling Club-Halo Cycles), at same time
6. Sophie Wright (Torelli-Brother), at 12 secs
7. Manon Lloyd (Trek-Drops), at 16 secs
8. Jessica Roberts (Team Breeze), at same time
9. Emma Lewis (Fusion RT Veloperformance), at 23 secs
10. Abigail Dentus (Team Breeze), at 26 secs
Thank you for reading 5 articles this month* Join now for unlimited access
Enjoy your first month for just £1 / $1 / €1
*Read 5 free articles per month without a subscription
Join now for unlimited access
Try first month for just £1 / $1 / €1