Wiggins and Shaw take National 10 titles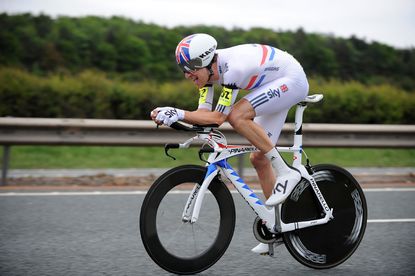 British National 10-mile Time Trial photo gallery by Andy Jones
Team Sky's Bradley Wiggins overcame the difficult conditions to take the National 10 title in North Yorkshire this afternoon.
Wiggins clocked a time of 19-14 on the T102 course along the A19, beating defending champion Michael Hutchinson (InGear-Quickvit Trainsharp) by 41 seconds.
Early pace setter Joe Perrett (Twenty3c-Orbea) took third thanks to an impressive 20-16, with Rudy Project Series leader Matt Bottrill narrowly off the podium, finishing in 20-39.
Only seven times across all four categories were sub-21 minutes, as a headwind affected riders as they headed south along the dual carriageway in the first half of the race.
Chris Newton set the course record of 18-59 here in 2006 and, while Wiggins - the current BTTC champion - averaged 476w on the way to victory, he fell short of Newton's benchmark.
Julia Shaw (www.drag2zero.com) was the only defending champion from 2010 to retain her title, but only did so by the narrowest of margins.
She beat Laura Trott (100% ME) by a slender four seconds, with Trott's team-mate Hannah Mayho completing the podium.
Sarah Storey, last year's runner-up, could only manage fourth.
Planet X's Ryan Mullen averaged nearly 28mph on the way to the junior title, beating Alexander Royle (Scienceinsport.com) and Oliver Rossi (PCA Ciclos Uno).
Motorpoint took a one-two in the Junior Women's race, as Hannah Barnes edged out Lucy Garner. Third place went to thirteen year-old Abby-Mae Parkinson (Aire Valley RT)
See next week's Cycling Weekly for full coverage of the National 10
British National 10 Chammpionship - T102 Course, Crathrone, North Yorkshire
1. Bradley Wiggins (Team Sky) 19-14
2. Michael Hutchinson (In-Gear Quickvit Trainsharp) 19-55
3. Joseph Perrett (Twenty3c-Orbea) 20-26
4. Matt Bottrill (I-Ride.co.uk) 20-39
5. Andrew Griffiths (Twenty3c-Orbea) 20-56
5. Stuart Dodd (www.drag2zero.com) 20-56
7. Richard Simmonds (The Altitude Centre) 20-59
8. Stephen Whitewick (UTAG Yamaha.com) 21-13
9. Tavis H Walker (Adeo Cadence) 21-16
10. Rob Pears (Bath CC) 21-21
Women's results
1. Julia Shaw (www.drag2zero.com) 22-53
2. Laura Trott (100% ME) 22-57
3. Hannah Mayho (100% ME) 23-28
4. Sarah Storey (Horzion Fitness) 23-32
5. Michelle King (Team Jewson-MI Racing) 23-34
6. Dani King (Horzion Fitness) 23-57
7. Mathilde Matthijsse (Ferryhill Wheelers Mountain High) 24-08
8. Jo Rowsell (Horzion Fitness) 24-21
9. Rebecca Slack (The Altitude Centre) 24-22
10. Rachel Turner (The Altitude Centre) 24-46
10. Rachael Elliott (Newbury RC) 24-26
Junior Men's
1. Ryan Mullen (Planet X) 21-33
Junior Women's
1. Hannah Barnes (Motorpoint Cycling Team) 24-41
Men's runner-up, Michael Hutchinson
Men's winner, Bradley Wiggins
Michael Hutchinson
Bradley Wiggins
Julia Shaw, women's champion
Hannah Barnes, junior women's winner
Ryan Mullen, junior men's winner
Related links
National 10 2011 photo gallery
Hutch versus Wiggins: The National 10 showdown
Bradley Wiggins: Rider Profile
Michael Hutchinson: Rider profile
Thank you for reading 5 articles this month* Join now for unlimited access
Enjoy your first month for just £1 / $1 / €1
*Read 5 free articles per month without a subscription
Join now for unlimited access
Try first month for just £1 / $1 / €1