Santas invade London on Boris bikes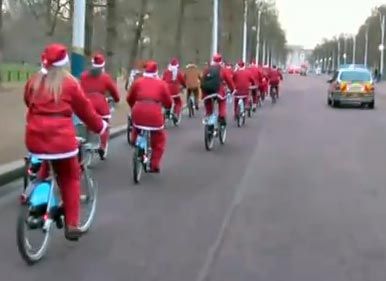 Prince Philip was one of many Londoners who stopped and rubbed eyes at the sight of 30 Santas riding around London en mass on Barclays Cycle Hire bikes this week.
Employees of the High Holborn-based Freshnetworks social media agency dressed up as Father Christmas, along with two reindeer, to spread some Christmas cheer around the capital.
As the red-and-white cavalcade reached Buckingham Palace, they bumped into Prince Philip in his car. Rather than giving the group a royal wave, he stopped to say hello and ask what they were up to before wishing them a Merry Christmas.
Alas, not everyone was filled with Christmas spirit. Some of the riders were branded a nuisance by taxi drivers and the ride attracted the attention of the police, cautious that it was part of a protest.
But they needn't have feared - the motive behind the ride was pure. It was just a bit of festive fun.
Watch the Santas in action by clicking on play below.
Thank you for reading 20 articles this month* Join now for unlimited access
Enjoy your first month for just £1 / $1 / €1
*Read 5 free articles per month without a subscription
Join now for unlimited access
Try first month for just £1 / $1 / €1