Schleck's Tour build-up falters with Dauphine TT crash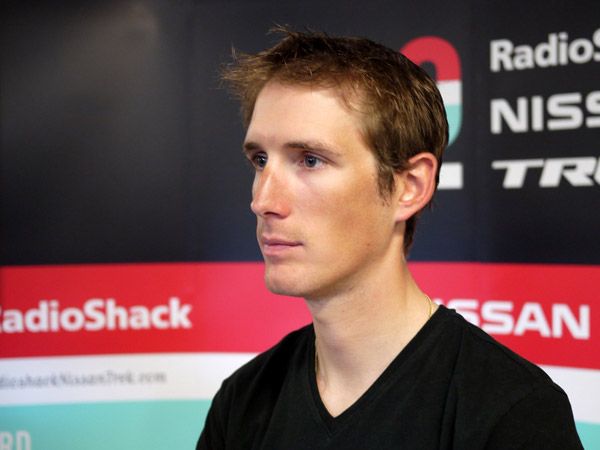 Andy Schleck saw his Tour de France preparations derailed today in the Critérium du Dauphiné. RadioShack-Nissan's leader slid through a corner and crashed early on in the time trial to Bourg-en-Bresse.
He recovered, but still lost 10 minutes by the finish. The time loss over the 53.5km course gains importance ahead of the Tour, where this year there are just over 100 kilometres of time trialling.
"It's not easy," team manager, Johan Bruyneel said. The wind blew down tree branches and dirt through the air as Bruyneel talked.
"We'll see at the end of the Dauphiné how he feels. I think the physical damage is not too much."
Schleck fell 10 kilometres into his test. He'd already lost three minutes in the first road stage and one minute in the second. The crash added insult to injury.
He carried on. He switched to a new bike and tried to forget the start in Villié-Morgon. However, his front tyre suffered a puncture and forced him to stop again.
Bruyneel followed behind in the team car. He hoped for the best, particularly since the Tour is only three weeks away.
"After the crash, I didn't want to push him any more. It was clear, another crash could've happened," he added. "My priority was that he came to the finish without a crash. You could see that he was very much in doubt, that his confidence was not there anymore."
Schleck came to the team van parked adjacent to the finish line. He climbed in and talked with Bruyneel. With scrapes up his right side and bloodied hands, it was hard for him to sit comfortably.
His bike sat on top of the van, mounted with a 50mm profile front wheel and a disc in the back. Shortly after the incident, Bruyneel called his team's mechanics and asked that they switch the other riders' bikes to non-disc wheels.
"That corner that he took was definitely the moment where the wind can catch the disc wheel," Bruyneel continued outside of the van.
He searched for the positives from the day.
"If we could've gone on at that same rhythm, then I think he could've done a decent time trial, which was the purpose today. The position was good, the power was good and the cadence was good. Unfortunately, the crash happened and now we have to step up the morale tonight."
Schleck collected himself and looked ahead tomorrow. The race travels though the nearby mountains, up the Grand Colombier that will make its debut in this year's Tour.
"I'm happy to be here and not sitting in an ambulance," he said. "I'm confident for the next days, even if not so confident for tomorrow. It's going to be a hard day on the bike."
Critérium du Dauphiné 2012: Latest news
Wiggins' Dauphiné time trial clothing dilemma
Live text coverage: Critérium du Dauphiné stage four time trial
Bruyneel disappointed with RadioShack's lack of results
Wiggins on Dauphiné: 'I've come here to race'
Wiggins happy with second in Dauphiné prologue
Critérium du Dauphiné 2012: The Big Preview - includes team list, TV guide, recent winners and more
Wiggins back to defend Critérium du Dauphiné title
Critérium du Dauphiné 2012: Stage reports
Stage four: Wiggins blitzes time trial
Stage three: Boasson Hagen blasts to stage win
Stage two: Moreno wins second stage in Dauphiné hill-top sprint
Stage one: Evans wins as Wiggins takes lead
Prologue: Wiggins second behind Durbridge
Critérium du Dauphiné 2012: Photo galleries
Stage four photo gallery
Stage three photo gallery
Stage two photo gallery
Stage one photo gallery
Prologue photo gallery