Simmons wins Red Bull Hill Chasers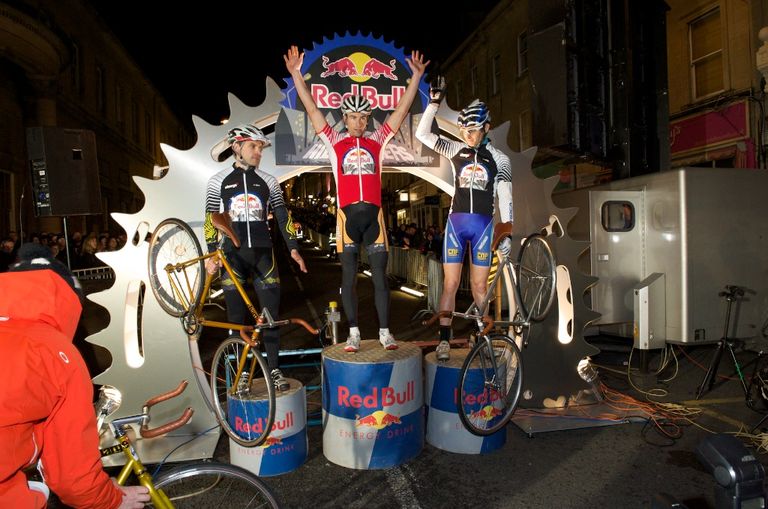 Ben Simmons was crowned champion of the 2012 Red Bull Hill Chasers in Bristol on Saturday night.
Simmons climbed to victory on the short, steep ascent of Park Street near the centre of the city having dispensed with his rivals in the furious elimination race.
A total of 32 riders took part, made up of 16 elite-level riders and the 16 best riders from Saturday's qualifying event - which Simmons topped.
American road race pro Ted King, who rides for Italian WorldTour squad Liquigas-Cannondale, was drawn against defending champion Chris Metcalfe in the first round. Metcalfe got the better of King, meaning the American's stab at glory was extremely short lived.
"Yeah that sucked. Why couldn't I get some slow person in the first round?! Boost the morale," King said via his Twitter page.
However, Metcalfe himself was knocked out in third round by a surging Simmons.
Wiggle-sponsored rider Simmons worked his way through the rounds to meet John Whittington in the final. It was Simmons who proved he had the energy to take the win after a hard night of climbing in front of the estimated 6,000 spectators.
Results

Final
Ben Simmons beat John Whittington
Semi finals
John Whittington beat Lacey Lewis
Ben Simmons beat Gareth Montgomerie
Quarter finals
Lacey Lewis beat Michel Prokop
John Whittington beat Edward McParland
Ben Simmons beat Chris Metcalfe
Gareth Montgomerie beat Rob Reed
Video from Cycling Bristol
Related links
Red Bull Hill Chasers 2012 photo gallery by Jim Davies