Study finds hi-viz clothing has no effect on driver passing distances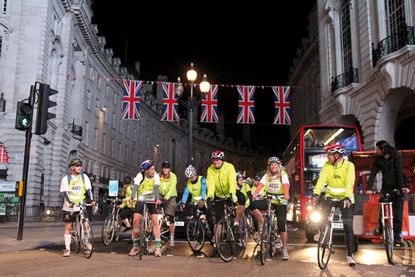 The recent focus on cycling safety, especially in cities, has regularly featured the suggestion that cyclists ought to wear high visibility clothing.



The promotion of hi-viz has included police operations to stop cyclists wearing ordinary clothes or cycling kit and give them official advice that they ought to be doing more to make themselves seen.
Into this consensus drops a timely study on cycling kit from researchers at Bath and Brunel universities. 269 participants used bikes with ultrasonic devices fitted to measure the distance at which motorists overtook them while they wore a variety of different cycling kit. This included a typical sporting rider's Lycra, a casual rider's normal clothing, and several different commercially available hi-viz vests.
The researchers found that the only kit that made a significant difference to the average passing distance was a hi-viz vest marked with the word 'POLICE' and a notice advising drivers that the rider was videoing their ride. This increased the average passing distance from 117cm to 122cm.
Contrary to the researchers' expectations, there was no marked difference between 'experienced rider' kit, and a vest marked 'Novice Cyclist', nor between ordinary clothes and hi-viz kit.
Irrespective of any of the kit worn, 1-2 per cent of overtakes were within 50cm, suggesting that nothing a rider wears makes any significant difference to the incidence of very close passes.
The researchers suggest that improvements to infrastructure are a more effective means of improving rider safety than changing clothing habits.
External link
Thank you for reading 10 articles this month* Join now for unlimited access
Enjoy your first month for just £1 / $1 / €1
*Read 5 free articles per month without a subscription
Join now for unlimited access
Try first month for just £1 / $1 / €1
Michael Hutchinson is a writer, journalist and former professional cyclist. As a rider he won multiple national titles in both Britain and Ireland and competed at the World Championships and the Commonwealth Games. He was a three-time Brompton folding-bike World Champion, and once hit 73 mph riding down a hill in Wales. His Dr Hutch columns appears in every issue of Cycling Weekly magazine