'They aren't just good, they're brilliant' - Meet Great Britain's junior super-talents
There's a golden generation of women coming through the GB ranks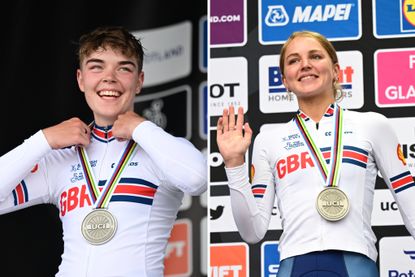 (Image credit: SWPix)
This feature originally appeared in Cycling Weekly magazine on 11 May 2023. Since publication, both Cat Ferguson and Izzy Sharp have signed WorldTour contracts, and will join Movistar and Lidl-Trek respectively in 2024.
Cat Ferguson was just 16 years old when she made her Nations Cup debut at the Piccolo Trofeo Alfredo Binda in March. In her first year of A-Levels, she had just joined GB's junior academy and was gearing up for her first road race with the squad. She was nervous, of course she was nervous, but there was no real pressure to perform. The race was twice as long as she was used to, and more still, some of the riders on the start list were two years older than her.
"I was hoping to maybe be in the front group, and maybe get a top 10," she tells Cycling Weekly. So you can imagine her surprise when she went and won the thing.
"It was quite a shock," Ferguson says. With 40km to go, she tore clear from the pack, together with a French rider, and won the two-up sprint to the finish. She covered her mouth in disbelief as she crossed the line.
First-year academy riders winning on their debut is almost unheard of, but the latest crop of GB junior women is special. For the squad's coach, Emma Trott, older sister of five-time Olympic gold medallist Laura Kenny, Ferguson's feat is the reserve of "super-talents", of which there are a handful in the eight-rider cohort. A glance at the Binda results shows that, of the six girls the national federation fielded, four of them finished in the top 11. What's even more impressive is that they'd never ridden together before.
Now, there's a confidence in the squad that they can win every race they start. The riders all believe it. Trott believes it, too. "I think everyone thinks I'm mad, actually," she tells Cycling Weekly. "But I somehow plant seeds that miraculously grow and then people buy into my madness. I do genuinely believe that we could dominate this year, which sounds cocky, but there's something about it that I do think it could happen."
For the junior academy coach, her current cohort is the most well-balanced she has ever managed. "I was excited in October when I selected them," she says. "First camp, I was buzzing, absolutely buzzing, because I could just see the cohesion. Everything about it was just wow, I was like, 'This is really awesome.' And then it got better and better and better."
At the training camp in Mallorca, Spain, Trott was taken aback by the team's work ethic. "They were just unbelievable in terms of their willingness to train hard," she says. On one occasion, the group insisted on riding further than planned, determined to reach the 100-mile mark and build up their endurance for the longer races they'd face at junior level.
Why, then, if these teenagers are so talented, haven't we heard about them before?
For Trott, it has something to do with the 2022 junior world champion, Zoe Bäckstedt. Last year, Bäckstedt's results overshadowed her teammates. As she cruised through the junior ranks, she picked up four rainbow jerseys, ruled over the Nations Cup stage races and secured herself a WorldTour contract.
"I think, in essence, Zoe was a godsend, because I think the girls were almost protected in a certain way," says Trott. "What it has meant is that other riders have been able to develop out of the spotlight, which I think sometimes is a good thing. Now, with her [Bäckstedt] removed from the junior category, it's their opportunity to step-up."
One of those reaching new heights is second-year rider Izzy Sharp. A week after Binda, the then 17-year-old dashed to victory at Gent Wevelgem Juniors, following in the footsteps of WorldTour pros Pfeiffer Georgi and Elynor Bäckstedt. She continued her form into March's EPZ Omloop van Borsele, winning the three-stage race she finished second in last year to Bäckstedt.
Already a 10-time national champion, Sharp's progress in cycling has been hugely promising. "I did a lot of sports when I was younger," she tells Cycling Weekly. "I did triathlon for a year or two, which I think a lot of cyclists seem to do, and then ended up getting into cycling."
At youth level, Sharp took quickly to cyclo-cross and track racing, but really excelled in time trialling, collecting both course and national records. Merging disciplines, she says, gives her the "perfect combination" to succeed. "Track gives you such a tactical and technical ability on the bike, and obviously a speed aspect of it. Time trials, just general raw power, and that can just pass on to a lot of things."
It's this multi-disciplinary view that's helping accelerate the development of the junior academy riders. Sharp isn't the only one crossing over. In fact, all of them compete in track events, which is a pre-requisite for getting on the programme. Some enjoy cyclo-cross, too, such as Imogen Wolff, the current junior national champion, and Binda winner Ferguson, who earned a silver medal in the team relay at this year's World Championships.
"It takes the boring side of winter training away," Ferguson says. "For me, I like racing, I enjoy racing, so to be able to race all throughout the winer, instead of just having to train and wait for the first road race is definitely something that keeps me motivated."
The teenager grew up in North Yorkshire mountain biking on local trails with her parents. "I really didn't like it," she laughs. "I used to just get sprayed with mud. Then I started doing competitive skiing, slalom skiing, and alongside that I was using cycling at my local club for training." When she realised she had a knack for it, she began dedicating herself more to riding her bike.
In tandem with her junior academy racing, Ferguson competes for a trade team, Shibden Hope Tech Apex, and stunned a stacked domestic field when she won her first road race at Capernwray in Lancaster. The team was set up this season by her father, Tim, a long-time cycling coach.
"I started the team for many, many reasons," he tells Cycling Weekly, though he's quick to stress that not one of them were for his daughter. "I'm putting British junior girls at the forefront, which is a big passion," he adds.
His team counts seven girls, three of which are GB junior academy riders, with a further two involved more loosely with the national squad.
Having a trade team is a huge advantage for the GB prospects. If, for any reason, they aren't selected for an event with the national federation, they can still rely on their teams for race entries. The parents band together to organise trips overseas, and with help from sponsors, can afford to give their daughters experience racing internationally. At Gent-Wevelgem Juniors, for example, there were 23 Brits, split across four teams.
One of those was Shibden, a team for which manager Tim has a simple goal. "As much as it's my team and I'm running it, I want to lose [the riders], if that makes sense? The aim is that they get noticed by whoever, and it's already happening. We've got quite a few WorldTour teams who are interested in some of them.
"They aren't just good, they're bloody brilliant."
The WorldTour, at least for now, is perhaps a step too far. For national coach Trott, the most important thing is that her cohort of teenagers continues to develop, and has fun doing it. "We have this thing that it's the big kid leading the little kids," she says, "and maybe that's just it. I think it's a hard job whether you're on the bike or off the bike, so actually having some fun and embracing that actually goes a hell of a long way.
"As long as they're happy, they'll go out there and perform, whether that be in training or in a race."
And so, with smiles on their faces, the group's path of destruction continues. They've already won the opening two Nations Cup events, but the line isn't drawn there. They're after the team pursuit title at the European Track Championships, Trott outlines, and with a home World Championships this August in Glasgow, they fancy a rainbow jersey, too. "I'd like to win everything this year, to be perfectly honest," the coach says. There's a real feeling that her group just might.
GB's junior women won two out of the five Nations Cup events in 2023, and took bronze in the team pursuit at the European Track Championships. Ferguson went on to win the junior Tour of Flanders and finish second in the World Championships road race. Sharp, too, earned a silver medal at Worlds, a runner-up in the individual time trial.
Thank you for reading 20 articles this month* Join now for unlimited access
Enjoy your first month for just £1 / $1 / €1
*Read 5 free articles per month without a subscription
Join now for unlimited access
Try first month for just £1 / $1 / €1