Thwaites wins National Circuit Champs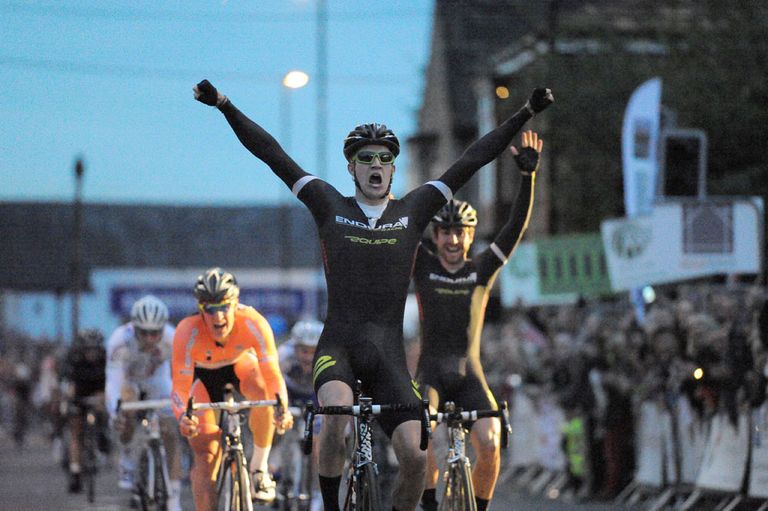 National Circuit Race Champs 2012 and Otley Circuit Races photo gallery>>
Scott Thwaites (Endura) won the 2012 British Circuit Race National Championship title on Wednesday night in Otley, Yorkshire.
Otley's annual town centre cycle races played host to the Circuit Race National Championship in front of massive crowds. Current under-23 road champion and local man Thwaites won Otley event for the second consecutive year, this year taking the national circuit race title into the bargain.
The pace was electric from the start and it was Thwaites that pulled the field round in the opening laps. It was then George Atkins (100%Me) and Liam Holohan (Raleigh GAC) who escaped and took out a substantial gap for the rest to chase. The field all came back together with two thirds of the race run.
There were a couple of solo attacks from Simon Yates (100%Me) and then George Moore (CyclePremier) but as the race came in to the closing three laps, Endura were well placed at the front of the field to control things.
A past winner in Otley, Ian Wilkinson (Endura) pulled on the front and took Steve Lampier (IG Sigma Sport) and Sam Harrison (100%Me) with him to gain a small gap on the front but once again as the bell rang for the final lap, Endura were at the front in numbers and controlled the race around the back of the circuit.
Thwaites and Endura team-mate Russell Downing came out of the final turn by Chevin Cycles and sprinted for the one-two, with Matt Cronshaw (Node4-Giordana) in third.
Result
British Circuit Race National Championship 2012
1. Scott Thwaites (Endura)
2. Russell Downing (Endura)
3. Matt Cronshaw (Node4-Giordana)
4. Chris Opie (UK Youth)
5. Graham Briggs (Raleigh GAC)
Pete Williams
Chris Opie leads the field
Simon Yates
Russell Downing
Scott Thwaites wins
Scott Thwaites in post-race interview
Related linksNational Circuit Race Champs 2012 photo gallery
National Road Race Championships 2012: The Big Preview
National crit champs head to Otley this evening