Tom Boonen considers a return to racing: 'I'm considering looking for some competition on the bike again'
We may see the four-time Paris-Roubaix winner return to racing via gravel events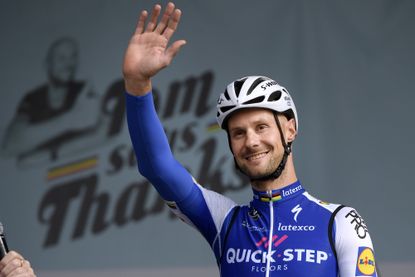 (Image credit: Getty Images)
After a nearly six-year break from professional cycling, the competitive cycling itch is starting to prickle again for Classics legend Tom Boonen.
The 42-year-old former bike racer turned race car driver says he's considering pinning on a race number again, according to Sporza.
"I'm even considering looking for some competition on the bike again. I'm still a bit hesitant, but it's starting to itch again," says Boonen.
A return to the WorldTour peloton is unlikely, however.
"I think of something like the [mountain bike race] Roc du Maroc or some gravel races," he says.
He'd even consider contesting the gravel world championships. Imagine seeing the four-time Paris-Roubaix and three-time Flanders winner, the "Bom van Balen" square off against Mathieu van der Poel.
"Who knows?" Boonen teases. "In any case, it is becoming very big, has a lot of potential. I get it, because it goes back to the essence of cycling: nature, freedom…"
Boonen seems to have had a change of heart since we last spoke to him, at the Sea Otter Classic in April 2022 where he was promoting his business, the Classified Powershift system.
At that time, he ranked family and car racing far above cycling. In fact, he hadn't even touched a bike for months, stating "I love it very much but, in a way, cycling has passed me by. The best of my cycling days are over. I never feel as good as I once felt."
Boonen has always loved cars, and he made his car racing debut at the VW Fun Cup, driving a classic Volkswagen Beetle, just three months after hanging up his race bike. He made his full-season racing debut that next year in the NASCAR Whelen Euro Series and has since gone on to race in the Belcar series, the Supercar Challenge and Carrera Cup.
Yet despite trading two wheels for four, he remained an an avid cycling fan, often seen on the sidelines of WorldTour races.
"Modern cycling is such a joy to watch. Tour winners who come to ride in the Classics, all-rounders who will race anywhere and are good everywhere…I really like it, and I wish I was racing now," he said at the time.
And perhaps in 2023, we'll see him turn that longing into reality.
Thank you for reading 20 articles this month* Join now for unlimited access
Enjoy your first month for just £1 / $1 / €1
*Read 5 free articles per month without a subscription
Join now for unlimited access
Try first month for just £1 / $1 / €1