'Classified is the future of cycling' - Philippe Gilbert joins Classified as investor and ambassador
Former road world champion joins Tom Boonen, Andre Greipel Marcel Kittel and Anna van der Breggen in investing in the new-age shifting technology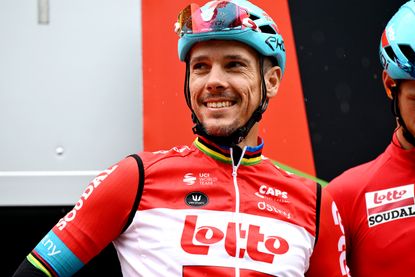 (Image credit: Getty Images)
Classified Powershift Technology today welcomed its latest ambassador and investor, Philippe Gilbert.
The retired Classics legend is the latest retired pro cyclist to support this new-age shifting technology, joining fellow legend Tom Boonen, sprinting greats Andre Greipel and Marcel Kittel and multi-time world champion and Olympic gold medalist Anna van der Breggen in backing the company.
Gilbert retired from professional bike racing at the end of 2022, after nearly 20 years at the pro level. During his time, Gilbert saw tremendous success particularly in the Classics with wins at Giro di Lombardia, Liège - Bastogne - Liège, Paris Roubaix and Tour of Flandres. No stranger to big tours either, Gilbert also won seven Vuelta a España stages, three stages at Giro d'Italia, a stage in the 2011 Tour de France as well as overall victories at Tour of Beijing, Tour of Belgium and three days of De Panne.
In addition to his financial support, Gilbert will bring a wealth of experience to the company.
"I believe in technology as a critical element of performance and cycling itself," said Gilbert in a statement. "And Classified is the future of cycling."
Arguably the biggest innovation in gear shifting since the emergence of electronic shifting, the Powershift System offers a wireless two-speed shifting system integrated in the rear hub, effectively replacing the need for a second chainring in the front.
After eight years of development, Classified debuted its front-derailleur-killing system at Eurobike in 2021 and has been making strides ever since with investors, bike and wheel manufacturers all clamoring to be part of the revolution.
Our editors tested the Classified Powershift hub for both road and gravel riding purposes, and came away hugely impressed.
The rear hub is internally geared and can switch between the two speeds with the push of a Bluetooth button on the handlebars. The 30 percent change in gearing acts much like a two-ring front crankset does. What you get is the aesthetics and benefits of a 1x system with the gear offering and straight chain lines of a 2x system.
Best of all, this shifting system allows you to change gears swiftly and crisply even under full load, while standing still or with a drivetrain bogged down with mud.
The shifting system has been UCI accredited and was even spotted being tested at the WorldTour during the 2022 season.
Thank you for reading 10 articles this month* Join now for unlimited access
Enjoy your first month for just £1 / $1 / €1
*Read 5 free articles per month without a subscription
Join now for unlimited access
Try first month for just £1 / $1 / €1
Cycling Weekly's North American Editor, Anne-Marije Rook is old school. She holds a degree in journalism and started out as a newspaper reporter — in print! She can even be seen bringing a pen and notepad to the press conference.
Originally from The Netherlands, she grew up a bike commuter and didn't find bike racing until her early twenties when living in Seattle, Washington. Strengthened by the many miles spent darting around Seattle's hilly streets on a steel single speed, Rook's progression in the sport was a quick one. As she competed at the elite level, her journalism career followed, and soon she became a full-time cycling journalist. She's now been a cycling journalist for 11 years.