Tweets of the Giro d'Italia second week: Lance Armstrong and Jonathan Vaughters decide to have it out on Twitter
What started as Vaughters of EF Education-EasyPost teasing Thibaut Pinot ended with him duelling with Armstrong on social media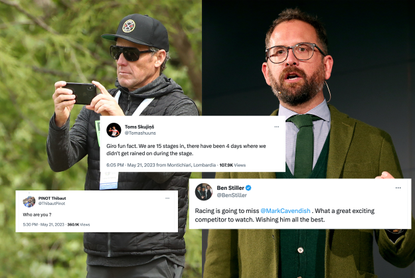 (Image credit: Getty Images)
Rest days at Grand Tours are often boring affairs, with riders and teams using the time off to recharge batteries. However, thanks to social media, the fun never really stops any more.
While the 130 riders left in the 2023 Giro d'Italia tried to recuperate, two of cycling's biggest personalities - Lance Armstrong and Jonathan Vaughters - decided to clash on Twitter, in a no-holds barred grudge match.
To understand the beef, you have to know that Vaughters and Armstrong have been far from best buddies for well over a decade. The pair spent 1998 and 1999 together at the US Postal Service team, with Vaughters riding part of the '99 Tour de France, Armstrong's first Tour "win".
Vaughters went on to forge his own career at Crédit Agricole while Armstrong continued his Tour "winning" streak. The former was then one of USADA's witnesses in its reasoned decision which brought Armstrong down and revealed the extent of his cheating.
They have history. Therefore, when Vaughters decided to poke fun at Thibaut Pinot on Sunday evening - which Pinot dealt with in a very good way, incidentally - Armstrong could not resist getting involved.
It did not end with Armstrong calling Vaughters a "f***ing clown", as Armstrong doubled down, claiming Vaughters "did the exact same thing as his entire generation did, threw his own riders under the bus, and got off Scot free".
Vaughters responded: "1. Not every rider of our gen doped. I did. 2. All witnesses in USADA investigation=volunteers. USADA has 0 subpoena power. These riders wanted a better path for the next generation. 3. You were offered: "tell truth keep TdF title." You could be in sport today. You chose to lie."
All in a day on twitter.com.
Meanwhile, Toms Skuijnš continues to be unimpressed by the weather at the Giro, Ben Stiller likes cycling, and Soudal Quick-Step try to make light of the fact the team is down to two riders.
1. What started as a harmless Twitter spat between Jonathan Vaughters and Thibaut Pinot...
2. Soon reopened decades-old beef between Vaughters and Lance Armstrong, he of no Tour de France titles
3. Armstrong, it appears, is still rather unhappy at Vaughters for his role in his downfall
4. Vaughters brings the cold, hard truth
5. But Armstrong will not chill
6. Elsewhere, Charlie Quarterman continues his Twitter renaissance at this Giro
7. Thomas De Gendt watches on, longing to be at the Giro where it's all about the last man standing
8. Trek-Segafredo has a fascinating solution to that age old problem of wet shoes. No newspaper here, just hot air not on print
9. It's fair to say the Latvian is unimpressed with the weather in Italy right now
10. Not everyone hates the rain...
11. Geraint Thomas, fully leaning in to his "dad joke" era
12. Cycling famous fan alert! Comedian Elis James loves Geraint Thomas
13. Even bigger famous cycling fan alert! BEN STILLER WHAT
14. Thomas Champion, hanging out with the late Michele Scarponi's parrot
15. Stranger things have happened...
16. Now Remco Evenepoel is out of the Giro, Thibaut Pinot is attempting to become the best footballer in the bunch
17. It's not all Giro - would you like any more road rash, Gleb Syritsa?
18. Megan Jastrab of DSM had a dusty day out in Flanders at the weekend
19. Back to the Giro, and poor Soudal Quick-Step are down to two
20. Finally, back to Vaughters. He has the final word on the Twitter spat. He's also not a persona non grata in cycling, unlike Lance...
Thank you for reading 20 articles this month* Join now for unlimited access
Enjoy your first month for just £1 / $1 / €1
*Read 5 free articles per month without a subscription
Join now for unlimited access
Try first month for just £1 / $1 / €1