Vacansoleil risks losing Proteam licence over Ricco case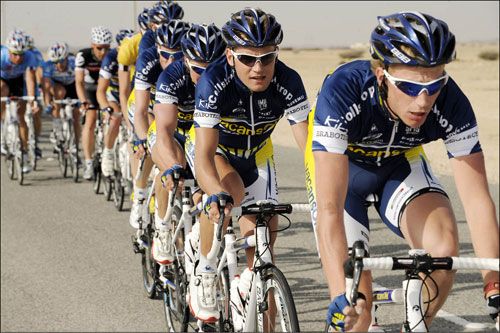 Vacansoleil risks losing its spot in cycling's first division, the WorldTour due to Riccardo Riccò's doping case. The International Cycling Union (UCI) licence committee will meet to discuss the Dutch team's licence, according to Reuters.
The team earned one of the 18 Proteam licences on November 10. The licence guarantees it the right to race in all WorldTour races, including the Giro d'Italia and Tour de France. The next WorldTour race is the Paris-Nice stage race in France, March 6 to 13.
Vacansoleil gained most of its UCI points to meet the WorldTour's sporting criterion thanks to Riccò. The 27-year-old Italian won seven races last year, which includes the Tour of Austria's overall classification.
Riccò had just returned from serving a 20-month ban for doping with EPO at the 2008 Tour de France. He raced most of last year for Italian team Ceramica-Flaminia and signed for Vacansoleil in August.
"The sponsor and the team believe that Riccò, after he's been punished, deserves a second chance," said Vacansoleil team manager, Daan Luijkx at the time. Riccò added, "I want to win back the hearts of the fans, I think I am on the right path."
On Sunday, February 6, Riccò went to the hospital in Modena after a botched blood transfusion. He admitted to a medic that he had used his own blood, which was likely improperly stored.
Riccò is in critical condition and is being kept under surveillance at the Baggiovara hospital. Kidney failure has led to lung and cardiovascular problems. On Monday, he was transferred to the cardiology department.
In the last two weeks, the Modena public prosecutor opened a formal investigation into Riccò and Vacansoleil suspended him. The UCI now wants to re-evaluate Vacansoleil's licence.
The UCI selected the teams based on their ethics, financial strength, administration and ranking. Vacansoleil's ethical values are drawn into question given the cases of Riccò and Ezequiel Mosquera.
Vacansoleil also gained the UCI points of Spain's Mosquera, who finished second at the Vuelta a España and then tested positive for hydroxyethyl starch. The drug that may be used to mask EPO, but it was not yet on the WADA's banned list.
Teams Geox or Cofidis could take over Vacansoleil's WorldTour licence depending on the UCI's ruling.
Related links
Ricco suspended by Vacansoleil team