Van Garderen reflects on his best season yet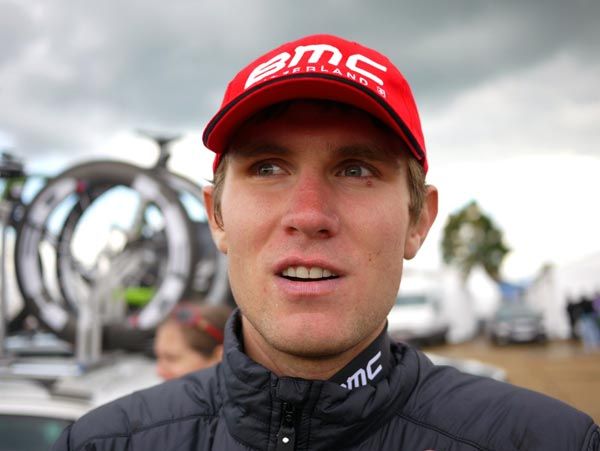 Tejay van Garderen put another plus in his scorecard yesterday in the World Championships. The American, on the back of winning the Tour de France's white jersey, showed he also can time trial in one-day events with a fourth place.
"It's good for the future," he explained off to the side of the finish line as the clouds rolled over. It had been an off and on day, rain and sun, clouds and clear, but the 24-year-old was consistent all the way through. As he said, it is good for his future.
BMC Racing signed van Garderen after he raced his first two years with HTC-Highroad. With Bob Stapleton's American team, he placed third overall in the Critérium du Dauphiné in his debut year.
Last year, some critics placed doubt on whether he could live up to his billing, but the white jersey at the 2012 Tour erased any doubts. A fifth overall in Paris-Nice and fourth in the Tour of California were also positive marks on his scorecard. He failed to reach the podium by five seconds yesterday, but the result rounded out his year.
"Fourth isn't fun!" BMC Racing's general manager, Jim Ochowicz said. "However, he's showing consistency and progress. We are delighted to have him and Taylor [Phinney, who placed second] in the organisation."
"No one likes to get fourth place, but this is probably the first fourth place I'm happy with," added van Garderen. "Obviously going five seconds faster and getting a medal would've been nice, but normally one-day time trials aren't my thing. I'm more of a stage race TTer."
Cadel Evans suffered in July, one year after winning the Tour. Eyes now look to van Garderen to help Evans lead the way for BMC in stage races.
Van Garderen was pressed about his future. What is next after the Tour's white jersey and a podium near miss in the Worlds?
"I'm getting stronger. It's been good. I haven't racked up a ton of wins, but I'm getting closer. One of these years I'll probably be able to score some more first places instead of just top fives," van Garderen explained.
"I won the white jersey and I still have a chance to win it again next year. I'll keep modest goals and follow my progression and be happy with where I'm at."
On Sunday, he will lead USA into the road race and then call an end to his best year yet.
Related links
World Champs road race: The Big Preview
Road World Championships 2012: Coverage index