White leaves Orica-GreenEdge as anti-doping review announced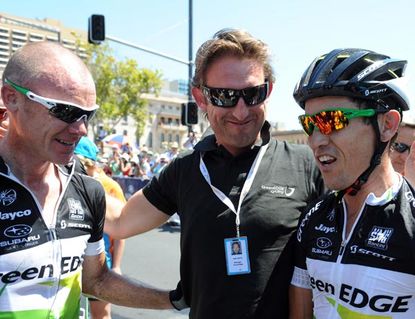 Matt White has left his post as directeur sportif at the Orica-GreenEdge team, the Australian squad announced on Thursday.
Two weeks ago White was dismissed as head coach of the Australian national cycling team after admitting to doping during his time on the US Postal team. White had temporarily stepped down from his position at the Orica-GreenEdge WorldTour team pending a review by the Australian Sports Anti-Doping Authority (ASADA), but has now been dismissed after discussions with the squad.
White's admission to dopong during his riding career came on the back of a wide-ranging report by the United States Anti-Doping Agency (USADA) that concluded that there was an organised programme of doping at US Postal during Lance Armstrong's seven Tour de France wins - now stripped from the American's palmares.
Orica-GreenEdge has also announced the appointment of former World Anti-Doping Agency (WADA) director Nicki Vance to spearhead an external review of the team's anti-doping policies and procedures to "confirm that Orica-GreenEdge's anti-doping policies, protocols and recruitment procedures are world's best practice and are being implemented without exception". The team will also 'review all team members and riders' to 'send the clearest possible signal of OGE's commitment to a clean team' it said in a statement..
Since her time as director of WADA at its inception, Vance has worked for the Australian Sports Drug Agency (ASDA) and headed up the anti-doping programme for the Sydney Olympic Games. She has been an independent anti-doping consultant since 2002.
Gerry Ryan, owner of the Orica-GreenEdge team said: "Professional cycling is at a cross roads. The future of the sport is being determined by what we do today. OGE will not step back from taking any necessary decision to protect the integrity of the sport and the team and to restore the confidence of cycling fans around the world.
"It's time to put our values to work. OGE believes a hard-line approach is an essential prerequisite to continue in the sport with credibility."
Orica-GreenEdge general manager Shane Bannan added: "Cycling must take the opportunity now to make the right decisions for the future of the sport as a whole. We want to contribute to this process and we want to involve both the teams and the UCI.
"The teams will meet with the UCI in the beginning of the December and we are fully committed to participate actively in real and long-term solutions for the sport. We're a new team in the sport and it's important to us to show initiative for something so fundamental for cycling."
Related links
Matt White dismissed by Cycling Australia
USADA's Armstrong doping report in brief
Thank you for reading 20 articles this month* Join now for unlimited access
Enjoy your first month for just £1 / $1 / €1
*Read 5 free articles per month without a subscription
Join now for unlimited access
Try first month for just £1 / $1 / €1