Will riding your favourite road help you reach 5,000 miles this year?
With just two months of riding to go before our annual mileages are confirmed, here are two more challenges to keep you motivated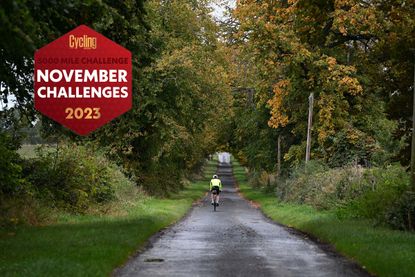 (Image credit: Andy Jones)
The end of the year is fast approaching, and no matter how many miles you've ridden in 2023 your annual mileage total will soon be rubber stamped. Whether or not you reach 5,000 miles and complete the CW5000, it's important to remember the main aim of this challenge is to inspire you to ride 'more'.
Some months when I look at my stats and see my mileage and fitness are not where I want them to be I can get disheartened and lose motivation. Whenever that happens I go back to basics, forget any bigger goals and just go out and enjoy my next session. From there my motivation grows again.
>>>>Find out more about the CW5000 and sign up here
I guess what I'm trying to say is to get out and just enjoy the next ride. Everything else will follow on from there. Hopefully the two November challenges below will help you to do that. Good luck!
Not always easy when it's cold and wet and clothing and bikes need washing after every ride. But if you can ride every day you start to form a habit, and after a while going for a ride seems like the normal thing to do. There are no minimum distances for this challenge, and of course virtual rides count as well.
Everyone has a favourite road to ride, don't they? Although I daydream about riding in Provence, or climbing a Pyrenean mountain, my favourite road is Weare Street, near Dorking in Surrey.
It's a single track, quiet road that twists and turns along a gentle gradient through a little woodland. There's a stream running alongside it and a duck pond partway along. It's so picture perfect it's like riding through a Jane Austin novel. And it always puts a smile on my face.
So to put a smile on your face, we want you to go and ride your favourite road this month. Be sure to stop for a quick picture and then let us know why it's your favourite place to ride.
Let us know about your riding this month and how you tackled these challenges by posting on the CW5000 Facebook group or emailing us at cycling@futurenet.com
Thank you for reading 20 articles this month* Join now for unlimited access
Enjoy your first month for just £1 / $1 / €1
*Read 5 free articles per month without a subscription
Join now for unlimited access
Try first month for just £1 / $1 / €1