Winter training: do something different
Winter is the perfect time to broaden your training and try new ideas, both on and off the bike. Mixing different disciplines within cycling, and even trying different sports, can help improve your riding by aiding muscular development and maintain your cardiovascular fitness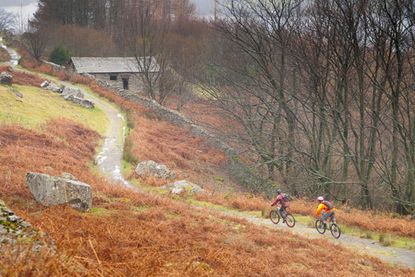 At times when going outside on your bike is less appealing, new activities will keep you mentally and physically fresh. What are the options for winter training? Which other sports will help your performance? And how will trying new things hinder or improve your riding?
Cross-training
Cross-training means combining different sports with your cycling to help improve your performance. If you only ride your bike and do no other activities it can lead to imbalances in your body; overworked muscles become stronger and larger while others not worked shrink and weaken, which can cause injury.
Cross-training is a great way to engage these usually underused muscles. When riding, you're often in a bent-over position, which means the abdominals and hip flexors become strong but tight, while the hamstrings and lower back muscles become long and weak. Exercise that works your body in a different way will help to balance this out and may prevent injury occurring.
If you're worried about squeezing your regular long rides in this festive season, doing other sports or specific sessions can help. It's much easier to find time for a short run than a long bike session. These will not only have muscular benefits but will allow you to maintain your cardio fitness, as while running, you're able to work at similar intensities as you would on the bike.
Another thing to remember is that cycling is a non-weight-bearing sport. Repeated load-bearing, such as running or lifting weights, help increase bone density, which strengthens the bones and reduces likelihood of osteoporosis. Cyclists who do no load-bearing exercise may suffer low bone-density, so doing some is a good idea.
However, what is a disadvantage to some may be an advantage to others and many people cycle for the very reason that it is non-weight-bearing. If you have injuries that are aggravated by weight-bearing activities, only do those that don't cause you any pain or problems.
What to try:
Running
Adding running to your training aids bone density as it is weight-bearing. Running engages some muscles that are unused during cycling, and recruits them in a different way.
Research conducted on a Norwegian pro cyclist found that doing high-intensity running sessions improved both his VO2 max while riding, and his time trial performance.
However, there is concern that too much running can hinder your cycling. Some muscular contractions in running are eccentric and not concentric, meaning muscles are used in the opposite manner - lengthening under load, not shortening as they do when riding.
TRY...
- 10min warm-up easy jog
- 6min running
- 4min walking
- 7min running
- 3min walking
- 8min running
- 2min walking
- 5min cool-down easy jog
Swimming
The reason swimming is so good for cyclists is because it forces you to use upper-body muscles, but only at relatively low loads. Front crawl will put more emphasis on hip-flexor and abdominal muscles. Having a go at backstroke engages those underused back muscles. Breast stroke uses the hip-flexors too, but in a different range, thus strengthening them in a new way. Swimming is particularly useful for those with injuries, who are unable to do load-bearing exercises in their cross training.
TRY...
- 150m warm-up front crawl
- 50m arms-only front crawl
- 50m legs-only front crawl
- 150m back stroke
- 150m breast stroke
- 100m cool-down any stroke
Skiing
With winter here and the ski season about to start, many are thinking of hitting the slopes. Whether it's a week away, or an evening spent at a local dry slope, skiing hard for extended periods can leave your legs burning and lungs heaving. Alongside this, skiing helps strengthen your smaller stabilising muscles, as your legs must support your body weight at high speeds and deal with other forces from twisting movements - all of which will aid those synergist muscles. If you can give cross-country skiing a go, it's well worth it, as the cardiovascular benefits you will see are massive.
TRY...
Even if you can't get out to the slopes, try a ski sit. This will help build strength in your glutes and quadriceps, which are muscle groups used while skiing and while cycling.
Begin with your back against a wall, with your feet shoulder-width apart, roughly two feet from the wall. Slowly slide your back down until your thighs are parallel to the floor. Position your feet so your knees are directly above your ankles (rather than over your toes). Keep your back flat against the wall and hold. Gradually increase your hold time as your strength increases. While a burning sensation in the quads is normal, if you notice any pain in the knee, stop the exercise.
On the bike
For some, trying other sports is a step too far. You ride a bike because you love riding bikes, or you have recurring injuries that may flare up.
No matter how much you enjoy cycling, though, it's easy to get fed up of long winter road rides. They're time-consuming, monotonous and with bad weather, can be just plain miserable. Sometimes riding does more harm than good, with winter rides often leading to colds and illness.
Then again, spending hours every week on the turbo, just to get the miles in, is no fun either. Fear not, there is a way to get out on the bike and keep warm, even in the ice and snow.
Getting on a mountain bike or cross bike is the perfect way to enjoy those winter miles. Off-road riding means slower speeds for the same energy expenditure as on the road, and you stay a lot warmer as there's less wind-chill. Off-road miles often take longer, as they are tougher; as a rule of thumb, one mile off-road roughly equals double that on the road. Depending on the conditions, it's the perfect intensity and type of training for this time of year.
By using specific tyres for ice, mud or dry conditions, going off-road brings a whole new dynamic to your riding, and switching between woods, road, fields and bridlepaths leads to more interesting and fun rides. Challenge yourself to technical off-road rides and come springtime, you will hop back on the road with far more skill and understanding of your bicycle.
Alongside improving your bike-handling and confidence, off-road riding can do a lot for you pedalling style, as well as using upper body and core muscles more. As you press on through mud or snow, an efficient pedalling action needs to be engaged so as not to grind to a halt. At the same time, negotiating technical descents or off-camber climbs will engage those usually unused upper body muscles and abdominals too.
For those who have limited time or want a more intense session, trying cyclo-cross racing is an option. Cross racing keeps you motivated all season long as you use similar energy systems as you would in a crit or a hard turbo session. Local leagues allow use of mountain bikes or cross bikes, so it's easy to get into and you may find yourself hooked.
If getting muddy doesn't appeal, there is always the option of hitting the boards, if you are lucky enough to live near a velodrome. A track training session or racing track league on an indoor velodrome keeps the intensity of your riding high. Alternatively, selecting a low gear means you can work on your pedalling style and keep your cadence high. Winter track riding can be beneficial, as it allows you to keep variety in your training and adds a new aspect to your riding. A winter racing league is even better, as a short sharp session is both time-efficient and effective.
On your bike...
MTB ride
Explore on a mountain bike as it's great fun and improves your confidence and bike-handling skills. Off-road riding is a great way to build your upper body strength, while remaining specific to cycling. By controlling a heavier machine in sludgy mud and keeping hold of the bars as you descend, you will build arm muscles and tone abdominal ones. It will aid your riding power too, and work on your cardiovascular fitness.
TRY...
- 5/1/14 Merida Brass Monkeys Winter Enduro, Ash Common Firing Range GU12 5EU
- 12/1/14 Soggy Bottom Winter Series, Newnham Park, Plymouth PL7 5BN
- 26/1/14 BikeArt Winter Series, Fire Road 6, Brandon Park Thetford
Check out the BC website to find an mtb race near you:
www.britishcycling.org.uk
Cyclo-cross race
The technical skills acquired by riding off-road on a cross bike will transfer perfectly and improve your skills on the road, especially as the position is similar to your road bike. The demands on the upper body of carrying up steep banks or over the hurdles is great for cyclists, and aids stability when you get back to riding on the road come spring. Long cross rides are perfect for building endurance, while doing cross races will allow you to keep the enthusiasm to train hard, with targets.
TRY...
- 22/12/13 Lincolnshire League Round 14, Rossington Welfare Ground DN11 0DU
- 29/12/13 North West League Round 12, Macclesfield Tennis Club, SK11 8JR
- 18/1/14 Eastern League Round 14, King Edward VI School IP33 3BH
- 25/1/14 SRAM Notts & Derby League Round 15, Draycott House Farm DE72 3PE
Check out the BC website for your local cyclo-cross league to go and give it a try:
britishcycling.org.uk (opens in new tab)
Track
If you live near to an indoor velodrome, riding on the track may be a great way to get in some interesting sessions. Track riding is social and a great way to catch up with clubmates. Whether it's rolling round doing half-lap changes on the blue line, or race scenario efforts, the track has something on offer for all. It's also a great way to maintain top-end fitness and/or work on pedalling style and leg speed.
TRY...
Check out your local indoor track's website for more information on taster sessions, accreditations and track leagues available. Or contact you local club for private training sessions at the tracks.
- Calshot Velodrome: www.hants.gov.uk/calshot/track-cycling.htm
- Manchester Velodrome: www.nationalcyclingcentre.com/track
- Newport Velodrome: www.newport.gov.uk/activeNewport/index.cfm/cycling
- Glasgow Velodrome: www.glasgowvelodrome.co.uk
What the cyclist's say
Claire Thomas
Pro rider living and riding in Belgium for Team Velosport-Montegrappa-Aprire, aiming to help get Scotland a medal in the women's road race at the 2014 Commonwealth Games in Glasgow.
"I do a 60-minute Bodypump class, where we work eight different muscle groups, from legs to the arms. I specifically do it to have a good core and strengthen my arms for climbing out of the saddle. Bodypump builds strength, and because my abs are stronger I am stiller on the saddle.
Bodypump also works the legs and strengthens them, so I have more strength for the powering up the climbs. "Doing Bodypump means I don't rock when I'm climbing; I can stay still, with all the power going through my legs and core when seated."
Anna Fischer
The ex-pro rider who has turned her attention to triathlon, and still rides for VC St Raphael and is sponsored by BW Cycling in Bristol.
"In my club, most of us now have cyclo-cross [CX] bikes and we use them all the time. We meet up for long weekend rides and, instead of riding purely on the road like we do in the summer, we ride through woods, local parks, tiny lanes and pretty places in the countryside. We mix it up with road and off-road riding.
"I'm not really too much of a fan of mountain biking, so I got myself a CX bike last winter which I ride through all the winter months. I have proper CX tyres on it, but I can also pump them up to 90psi, so I can ride all sorts of terrain with it. I think riding off-road is more exciting than riding on the road, and it also teaches you better riding skills. It can be a bit more dangerous as well, especially if it's wet.
"When I lived in Bristol, I rode the track a lot through the winter. It was awesome and I really miss that. It was a great mixture of speed and endurance work, and it was all done in a group of good riders, so it was really good fun! I live further away from the track now, but I still go for the odd weekend session."
Euan Adams
Rides for Juice Lubes Race Team at national level off-road, and also competed in triathlons during 2013.
"I used to do a little bit of climbing when I was younger and thought it would be good time to start back up again. It's a great whole-body workout, really working the upper body and core, as well as being really good fun! All this is just what you need for mountain biking and triathlons.
Being a physio, I know how important having a strong core is for racing, and pilates is great for that, but being lazy I need a class to go to rather than doing it myself."
This article was first published in the December 19 issue of Cycling Weekly. Read Cycling Weekly magazine on the day of release where ever you are in the world International digital edition (opens in new tab), UK digital edition (opens in new tab). And if you like us, rate us!
Thank you for reading 5 articles this month* Join now for unlimited access
Enjoy your first month for just £1 / $1 / €1
*Read 5 free articles per month without a subscription
Join now for unlimited access
Try first month for just £1 / $1 / €1
Founded in 1891, Cycling Weekly and its team of expert journalists brings cyclists in-depth reviews, extensive coverage of both professional and domestic racing, as well as fitness advice and 'brew a cuppa and put your feet up' features. Cycling Weekly serves its audience across a range of platforms, from good old-fashioned print to online journalism, and video.