Yanto Barker heads UK Youth one-three at UCS Ipswich and Coastal GP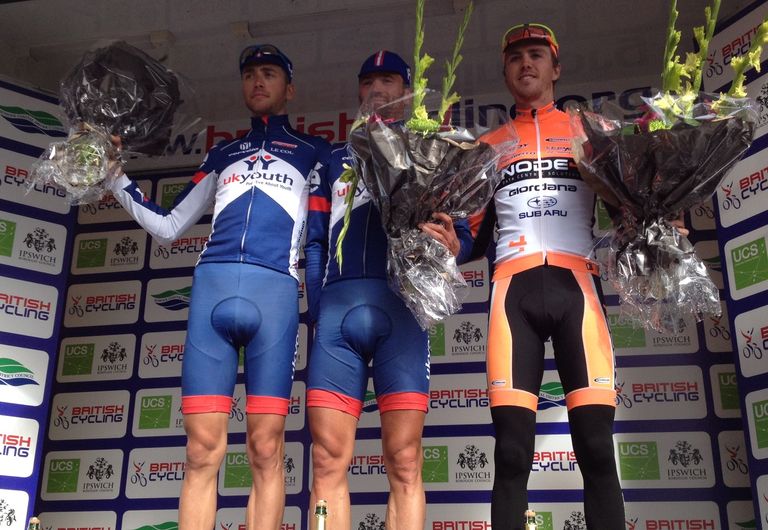 UK Youth's Yanto Barker timed his sprint to perfection to win the inaugural UCS Ipswich and Coastal Grand Prix in Suffolk this afternoon.
Barker beat Mike Northey (Node4-Giordana) and team-mate Rob Partridge in an eight-rider gallop for the line after a 200-kilometre race that both started and finished in the Ipswich Neptune Marina.
The event's proximity to this year's Tour of Britain - which starts in Scotland a week today - meant that the vast majority of riders who will represent the six domestic squads in the eight-day race were also present here.
When asked if the win or a pre-Tour hit-out was UK Youth's biggest objective for the day, Barker told Cycling Weekly: "It's difficult to define which was more important. Yes, we wanted to get a good result, but we weren't willing to do that at the expense of pushing the team too hard and sacrificing their quality workout before the Tour of Britain.
"Rapha put all their guys on the front in the first 100 kilometres. We didn't want to do that - we wanted to make sure everyone got that distance of controlled racing, before we used the second 100 kilometres to make the selections."
The first half of the race was relatively unremarkable, as Chris Barlett (Metaltek-Knights of Old) attacked on the way out of Ipswich and was joined by Northey and team-mate Dan Barry, Lachlan Norris (Raleigh) and Will Bjergfelt (MG-Maxifuel) on the first of five 32-kilometre laps around Rendlesham Forest.
Rapha Condor JLT controlled the peloton and helped cancel that move out on lap three, which was when the race - which started in sunshine, experienced heavy rain in the middle and ended in windy and overcast conditions - came alive.
First a short-lived 18-strong group formed on lap four, before a decisive 20-man move formed on the final lap of the circuit and quickly gained a 60-second advantage over the peloton.
The leaders split in half on the 22-kilometre run back into Ipswich, with Barker, Partridge, Northey, Nathan Edmondson (Node 4-Giordana), George Harper, Matt Cronshaw (IG-Sigma Sport), Evan Oliphant, Tom Moses (Raleigh), Kristian House (Rapha Condor JLT) and recent Tour de l'Avenir stage winner Simon Yates (Great Britain) making the cut.
"The crosswinds in the final kilometres decided the race in the end, I think" said Northey. "If it had kicked up more earlier on, it would have been interesting."
Cronshaw and Edmondson lost touch in the final 10 kilometres, while the chasers came within a matter of seconds before catching the leaders at the finish. However, Barker got it spot on and was not to be denied an impressive victory.
Results

UCS Ipswich and Coastal Grand Prix, Suffolk

1. Yanto Barker (Gbr) UK Youth
2. Mike Northey (Nzl) Node4-Giordana
3. Rob Partridge (Gbr) UK Youth
4. Tom Moses (Gbr) Raleigh
5. George Harper (Gbr) IG-Sigma Sport
6. Kristian House (Gbr) Rapha Condor JLT
7. Evan Oliphant (Gbr) Raleigh
8. Simon Yates (Gbr) Great Britain
9. Chris Opie (Gbr) UK Youth
10. Peter Williams (Gbr) IG-Sigma Sport