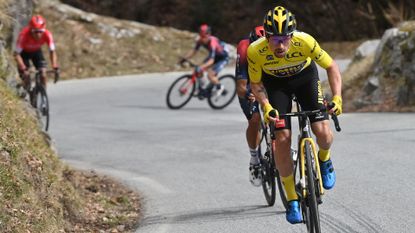 (Image credit: Getty Images)
It isn't just the professionals who should be gearing up for the new cycling season. Fans will be looking for somewhere to follow all the excitement, drama, ups and downs 2023 has in store, and GCN+ is perfectly positioned to bring you every unmissable moment.
Even if you're not travelling the world to watch your heroes in the flesh, keeping up with your favourite sport can be hard work. With broadcast and streaming rights to the biggest events often spread between multiple providers, just staying in touch with the action can be both a juggling act and a sizeable investment. The great news about a subscription to GCN+, however, is that it offers access to an unbeatable mix of the world's most thrilling cycling races – and, if you sign up for an annual package, you get it for around the price of a coffee a month.
On GCN+, grand tours, stage races monuments and classics line up alongside cyclo-cross, track, MTB and BMX events, with major races available both live and on-demand. You can also work your way through an expanding library of the best cycling documentaries on the planet.
The exact line-up of races available depends on where you live (check out the live racing schedule in your country for details), but you can expect front-row seats for many of the hottest tickets in the cycling calendar. As the road season gets underway, for example, UK viewers can watch the pros get back in the saddle at spring classics like Strade Bianche and Milano-Sanremo. They'll also get to enjoy iconic one-week stage races like traditional Tour de France warm-up the Critérium du Dauphiné, as well as the most famous races on the men's cycling calendar – the three Grands Tours. The Tour de France Femmes avec Zwift, Giro Donne and La Vuelta Feminina will also be available on GCN+.

If you prefer your cycling action off-road, meanwhile, GCN+ has got you covered, with events from the UCI MTB World Series, the UCI BMX World Cup and much, much more. And you can take a more detailed look at what's going on with live race updates and stats, start lists and results, in addition to the expert race analysis provided by exclusive shows like The World of Cycling and The Breakaway.
It's good to know, too, that GCN+ is as versatile as a high-level domestique. How you watch the racing is entirely up to you, whether you want to enjoy ad-free coverage of the big races live and uninterrupted, or catch up later via the on-demand service. GCN+ also features different types of highlights to fit around your schedule, everything from longer packages which can give you a feel for a whole day's racing, to briefer snapshots of the all-important final kilometres of a race.
And because GCN+ is available on multiple devices (it works on smartphone, smart TV, computer, smartphone and tablet, and can also be cast to some TVs) you can watch anywhere you have an internet connection – in other words, the action will come to you, whether you're at home or on the go.
Even with a schedule as packed as GCN+'s, however, the live cycling can't continue 24/7. Luckily, there's no need to worry about holes in your bike life, thanks to GCN+'s rapidly expanding selection of cycling films and documentaries. Over 150 titles are already available on the service, covering everything from epic adventures, record-breaking challenges and awe-inspiring cycling locations, to in-depth guides to the science of cycling.
So if you're looking for the perfect roadside view for the most exciting cycling action 2023 has to offer, GCN+ is ready to take you on the ultimate ride. A monthly subscription costs just £6.99 a month in the UK, though you can save loads by signing up for an annual package that'll set you back just £39.99. In the US, you'll pay $8.99 a month (plus taxes), or $49.99 a year.
The professionals are ready on the start line, and you can follow them all the way with GCN+.
Visit plus.globalcyclingnetwork.com to find out more.
Thank you for reading 20 articles this month* Join now for unlimited access
Enjoy your first month for just £1 / $1 / €1
*Read 5 free articles per month without a subscription
Join now for unlimited access
Try first month for just £1 / $1 / €1