From Olympic cycling gold to ski race winner and instructor: Samuel Sánchez's new sporting successes
The Spaniard has found glory in his first sporting love since retirement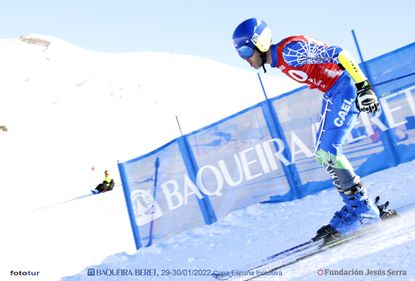 (Image credit: Fototur)
When Samuel Sánchez retired from professional cycling in 2017 after an illustrious 17-year career, he did so knowing that his competitive instinct would one day force his return to the racing arena.
"A sportsperson who has been at the highest level of their sport will always like to compete," the 2008 Olympic road race champion and six-time Grand Tour stage winner tells Cycling Weekly. "But I didn't see myself racing as a cyclist into my 40s. It didn't motivate me."
So instead, at the age of 39, the Spaniard turned back to his first love. "I grew up with the snow, I am a snow person and my family are mountaineers," he says. "I learned to ski when I was very small and did so until I was 18.
"In the winters I would have an Alpine ski race in the morning and when they closed the ski station, I went cross country skiing with the owner of the rental shop which would prepare me for the bike. I spent a lot of years balancing my days like this."
However, dedicating his life to cycling aged 18 meant that Sánchez had to put his skis away, and he didn't dust them off until he closed the door on a cycling career that brought with it 34 wins including a second on GC at both the Tour de France and the Vuelta a España.
As soon as he started tearing down the pistes once again though it wasn't long before his passion for skiing took hold once more.
In the winter of 2020-21 he qualified as a level two ski instructor, and then began racing Giant Slalom. The results were extraordinary: in his debut season as a master in the 40-45 category, Sánchez went to four different events, winning one Spanish Cup, finishing second in another, and also claiming a third place. His transition from bike racing to ski racing was seamless.
Forever possessing the mentality of an elite athlete, however, Sánchez is not content with his burgeoning ski palmarès. "I've got so much left to improve," he believes. "One day I would like to race in the Ski Masters World Cup, but I am aware of the people who compete in these races and they have been racing for a lot of years, competing since they were young.
"That is why I have the ambition and desire to continue to improve, to train more and to get better each time because the truth is I need to get better."
The current winter has been a frustrating one for Sánchez who also runs a successful junior cycling team, MMR Cycling Academy, that one day he'd like to progress into a professional outfit. "Due to professional commitments this year I haven't pinned on a ski race number," he says.
Still, though, he's hopeful of competing at the Spanish Championships at Sierra Nevada in April, a race that he finished seventh in last year. "I did nothing right," he reflects. "I just didn't ski well." He proved last year, though, that he could compete for the victory.
"The speed," he resumes before pausing for emphasis, "the speed, in the end, man, you have it inside you. It's like the bike: you either have it or you don't. Skiing gives me freedom as you're in the middle of the mountains, but more than anything allows me to get better as an athlete."
His near-two decades as a professional cyclist have aided him enormously as a competitive skier. "The bike has helped me to interpret the correct line," says the now 45 year old who splits his winter between his home mountains in Asturias and the Val d'Aran in the Pyrenees.
"On a bike you come down a mountain pass at 70kph without knowing sometimes what's coming. It's the same in skiing: you go to a race and the only knowledge you have of the course is going down it really slowly once, so you have to remember it in your head. When you start, it's only you, your ability to interpret the course and then go down the correct line."
The margin for error in ski racing can be minute. "I love the sensation of going through the gates - it's very, very, very technical," he continues. "The small technical management that you need is impressive. It demands a lot of attention and what I like about it is that you're never satisfied with how you ski. I'm never, ever happy with my descent when I finish.
"Skiing, and all sports, is in continuous evolution and you're always learning. You always want the perfect turn, you always want to go better, and in skiing especially you always want to be better than your mates. You can have an amazing run, but the next one has to be better. That's why it's a lot of hours practising."
It's that commitment to improvement that led him to become a qualified instructor. "I did it to truthfully understand what a good ski technique is," he explains, "and to know why people fail when they are turning and the movements you need to do to ski well. I consider myself a little ski nerd!"
So has he become a profesor de esquí? "No!" he laughs. "I don't want to take classes, I'm not going to start teaching little kids - I did it for my own knowledge."
While this winter's season may have been a disappointment for Sánchez so far with no competition, his hopes of making it to the world Masters arena remain undimmed, and he's also got his eyes on something extra fancy from his sponsors Salomon.
"I have a golden bike," he points out, a privilege afforded due to him winning the Olympics, "so I was thinking of asking the CEO of Salomon if he would give me some golden ski boots!"
Become a world champion in skiing, and his dream might just be granted.
Thank you for reading 20 articles this month* Join now for unlimited access
Enjoy your first month for just £1 / $1 / €1
*Read 5 free articles per month without a subscription
Join now for unlimited access
Try first month for just £1 / $1 / €1