Lefevere suggests UCI is 'short of cash' after fining Alaphilippe
Soudal Quick-Step rails against the ruling body after his French team leader is penalised for removing his helmet while racing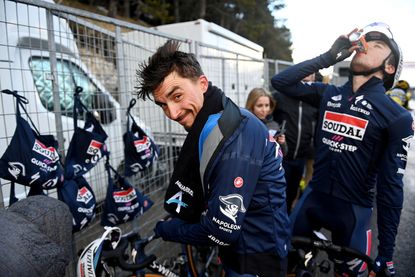 (Image credit: Tim De Waele/Getty Images)
Soudal Quick-Step team boss Patrick Lefevere has lashed out at the UCI, accusing the sport's ruling body of being "short of cash" after his team leader Julian Alaphilippe was handed a fine of 500 Swiss francs for removing his helmet during Thursday's fourth stage of Tirreno-Adriatico.
Writing in his weekly column in Belgian daily Het Nieuwsblad, Lefevere was typically forthright. "Wind in Paris-Nice and Tirreno-Adriatico, but I notice that it's also raining. The fines from the UCI are falling from the sky this year," he declared.
"A fine of 500 Swiss francs for Julian Alaphilippe on Thursday… He briefly took off his helmet while he changed his clothing. How long did that take? A maximum of five minutes. That's 100 Swiss francs a minute."
He backed up his claim that the UCI is "short of cash" by pointing to other incidents that resulted in his riders being penalised by race commissaires. The Belgian team boss highlighted the disqualification of James Knox for drafting behind a car at the Tour Down Under after the Briton had had to undergo a concussion test protocol following a crash. He also referred to Alaphilppe losing the yellow jersey during the 2020 Tour de France for a time penalty imposed after he'd taken a bottle just beyond the point where feeding had ended.
Lefevere went on to suggest that the UCI itself should come under scrutiny for what he saw as dangerous road furniture on the finale of stage five of Paris-Nice. "I'm not going to say that the UCI should applaud when a rider takes off his helmet – we shouldn't downplay safety – but should the federation also impose a fine on itself if a bollard suddenly becomes apparent in the road in the last kilometre of Paris-Nice? I didn't see that in the official communiqué," he affirmed.
Lefevere concluded his swipe at the UCI by suggesting that former riders would be much better suited to the role of the commissaires who ensure adherence to the sport's rules during racing. "A former rider has a better feel for that than someone who has never raced… My advice to retired riders who want to 'keep doing something in racing': take a UCI commissaire's course," he said
A glance at the UCI rules suggests that Alaphilippe could have been handed a more severe penalty, including disqualification from the Italian stage race for removing his helmet. The regulations state that a 200 Swiss franc fine and elimination or disqualification for this infraction. But the Frenchman actually appears to have been charged under the section of the rules relating to 'damage to the image of cycling'.
Thank you for reading 10 articles this month* Join now for unlimited access
Enjoy your first month for just £1 / $1 / €1
*Read 5 free articles per month without a subscription
Join now for unlimited access
Try first month for just £1 / $1 / €1
Peter Cossins has been writing about professional cycling since 1993, with his reporting appearing in numerous publications and websites including Cycling Weekly, Cycle Sport and Procycling - which he edited from 2006 to 2009. Peter is the author of several books on cycling - The Monuments, his history of cycling's five greatest one-day Classic races, was published in 2014, followed in 2015 by Alpe d'Huez, an appraisal of cycling's greatest climb. Yellow Jersey - his celebration of the iconic Tour de France winner's jersey won the 2020 Telegraph Sports Book Awards Cycling Book of the Year Award.