Kurio bespoke compression leggings review
Kurio's compression leggings are made to measure. We evaluate the advantages of bespoke compression garments over buying off the shelf.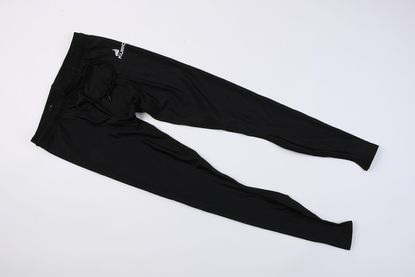 (Image credit: mike prior)
A bespoke approach to getting the right amount of graduated compression – but at a price
Reasons to buy
+

Excellent fit

+

Well finished

+

Less muscle soreness the morning after exercise

+
Reasons to avoid
-

Expensive

-

A bit hard to get on

-
Why you can trust Cycling Weekly Our expert reviewers spend hours testing and comparing products and services so you can choose the best for you. Find out more about how we test.
Compression garments are increasingly being used by athletes, both during competition and as an aid to recovery after an event. Claimed benefits include better performance while competing and diminished delayed onset muscle soreness and faster recovery afterwards.
Compression garments have a longer history in medical use than in sport and it's been shown that they aid venous blood return in those with poor circulation, particularly from the legs and arms. Getting the right level of compression is important too: too much and circulation could be impaired while too little will reduce the garment's effectiveness. The consensus is that optimal compression to the leg muscles provides a gradient from tighter nearer the foot to looser nearer the torso, with a pressure on the leg ranging from 18 to 32 mm of mercury.
Is bespoke better?
Hitting these ranges in an off-the-shelf garment is tricky, as everyone's shape is different. Kurio tackles this with a fully bespoke offering based on measurements of an athlete's dimensions. Kurio arranges a visit to take 36 measurements of the two legs at different points from the ankle to the crotch. In some sportspeople, such as racquet users and field athletes, asymmetry of muscle development can be quite extreme.
>>> Watch: maximise your recovery window
Using these measurements, Kurio will make up a totally bespoke garment at its premises in Mansfield, delivering it to you in 7 – 10 days. Kurio also tailors the fit to the intended use, so its Recovery leggings are more compressive than its Performance or Travel fits. The garment comes in a neat drawstring bag and is made of a fabric designed to keep its stretch over time. Kurio claims only a 1% loss in compression with washing and wearing when a typical compression garment would lose 8-10%. The fabric is also silver treated to reduce odour build-up.
>>> How to deal with inflammation
There's a single, well-finished flatlocked seam up the inside of each leg and a drawstring elasticated waistband. Although black is the only fabric colour option, Kurio does offer a range of different colours for the stitching. Your initials and the type of garment (Recovery, Performance or Travel) are embroidered into the waistband too.
>>> Should cyclists stretch to prevent injury?
Getting the leggings on is slightly tricky. Starting with them inside out, I had to roll them over my heels, which were a tight fit. After that it was fairly easy to invert them over the rest of my legs, although I needed to be careful that they were pulled up fully and not bunched below my knees. Once on, they were comfortable though and did not feel unduly tight, except for a slight feeling of constriction around the back of my knee joints when seated.
>>> Review: CEP Socks For Recovery
I've used the leggings after long rides, typically wearing them for several hours. I have been happy slopping around the house just in the leggings but they're comfortable and unobtrusive under trousers too. They do seem to make a difference in delayed onset muscle soreness after a hard ride, although they don't eliminate it completely.
Watch: Maximise your recovery window
As you'd expect, Kurio's garments are not cheap, the company charging £240 for a fitting and a pair of fully bespoke leggings. There's also the option to supply your own measurements via the company's website, which brings the price down to £160. As well as leggings, Kurio supplies long sleeved tops, and calf and arm sleeves.
>>> Could compression clothing benefit your recovery?
The science behind compression in athletics is not well developed and Kurio is working with sports scientists at Loughborough University and other UK universities to improve the research base. It's already signed up an impressive list of athletes, including Andy Tennant from Team Wiggins and a number of triathletes.
Thank you for reading 5 articles this month* Join now for unlimited access
Enjoy your first month for just £1 / $1 / €1
*Read 5 free articles per month without a subscription
Join now for unlimited access
Try first month for just £1 / $1 / €1