Could compression clothing benefit your recovery?
If recovery is essential to better training, shouldn't we all be wearing compression socks after a hard session, asks Stuart Clapp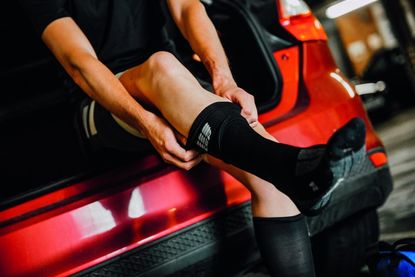 (Image credit: chris catchpole)
Train hard, recover and go again. We've seen the photos of the pros post-race in their compression clothing, but is this gear worth investing in for our own recovery after a hard day in the saddle?
After all, we're hardly doing three-week stage races where recovery needs to happen, quite literally, overnight.
>>> Seven simple steps to be a successful cyclist
That said, it still might well be worth while stepping into some support stockings if this provides an easy-to-implement boost to recovery.
Dos and don'ts for the end of your ride
The thinking behind the theory
Doctors prescribe compression wear for bedbound patients or people with lymphatic problems. The hosiery increases pressure and accelerates blood flow to the heart, heightening the venous system, and shifting the toxins from the legs to the lymph glands quicker where they're absorbed by the body, similar to the effects of massage.
>>> The natural foods you need for top performance and recovery (video)
So how does compression wear work for cyclists? If it increases circulation, the theory is that it should speed up the body's repair of sore, damaged muscles. But does it?
Compression will help to combat cramp post-exercise, but little has been proven independently to suggest that it accelerates recovery.
A brand's perspective
CEP Compression is one of the leading brands in the category and supplies teams such as Velosure-Primal as well as a number of individual endurance athletes.
The company is owned by Medi, a German firm that has been in the business for over 60 years. It's widely regarded as a global leader in phlebology, the science concerned with venous defects.
>>> Should you really train like a pro?
"While riding a bike, the benefits are limited; it's a linear movement where the rider doesn't lose their shape, whereas if an athlete is running, the movement is far more dynamic. Compression limits muscle oscillation and helps to prevent injury, but the benefit for cyclists is found primarily in their recovery," says Matt Davey, UK sales manager for CEP Compression.
Get your on the bike clothing spot on this winter
The idea of compression being used to enhance performance on the bike has been scrutinised. The UCI seems to think there is a benefit to be had from wearing compression wear in competition, as in 2012 they imposed a ban on it and stated that sock length must be no higher than the mid-point of the ankle and the knee.
>>> How to tell whether you are overtraining, and how to avoid it
Whether this is because of the benefit of compression itself or because compression garments could offer aerodynamic advantages is unclear.
"All compression isn't the same. To sum up the whole category would be like riding on one tyre and judging them all by that standard. Using good compression wear will speed up recovery.
"If a cyclist has spent thousands of pounds on their bike they're going to want to use it. Compression helps that. It helps them to recover faster and use their bike more frequently. And more training means fitter and faster," adds Davey.
Top tips to sleep better and ride faster
Is it all in the mind?
With no concrete proof either way, perhaps it's not unfair to suggest that the benefit can be found psychologically as much as it can be found physiologically. Either way, if wearing compression socks encourages the former — a better mindset — going into an event or training session, then what's the harm?
>>> Detraining: The truth about losing fitness
Placebo or not, there are gains to be made if an athlete is feeling like they've done everything in their power to be the best they can be on the day of the event.
Our take
As Matt Davey says, the benefit of compression is limited while riding, but with more pro teams decking out their riders in compression socks following a hard race, they're bound to grow in popularity.
After all, we choked at recovery shakes, avoided aero helmets and tittered at Team Sky's warm-down, but those innovations all caught on regardless. Recovery socks look likely to be next.
Yes: Russell Hampton, cyclist at Team PolyPipe and coach at Marginal Gains Cycling
"Compression clothing has always been vital to my performance. I've been using it for 10 years now. I find that once I've used compression socks, either travelling or recovering overnight, my legs feel less bloated and stiff, which means I can perform better day after day."
No: Zoe Chapman, sports massage therapist, Unique Massage
"A manual lymphatic drainage (MLD) massage has proven to be more beneficial than compression wear.
"The reason behind this is compression can close lymph vessels, which are found just below the skin, and decreases the amount of toxins able to escape from the area. MLD is a light massage that pushes the waste toxins towards the lymph nodes."
Thank you for reading 20 articles this month* Join now for unlimited access
Enjoy your first month for just £1 / $1 / €1
*Read 5 free articles per month without a subscription
Join now for unlimited access
Try first month for just £1 / $1 / €1