Assos CS.speedfire Chronosuit S7 review
Assos CS.speedfire Chronosuit S7 is the Swiss brand's time trial skinsuit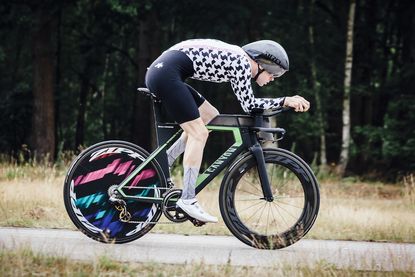 The Assos CS.speedfire Chronosuit S7 is a very high-quality item. Our testing suggested there are faster skin suits available, but the Assos is the most comfortable. Something to factor in if you're going to be competing in longer events such as time trials over 50 miles. Although expensive, if looked at from a cost per watt saving, the Assos suit makes far more economical sense than a £5,000 top-end TT frame.
Reasons to buy
+

Superb quality

+

Built to last

+

Comfortable (for a skinsuit)

+
Reasons to avoid
-

The pattern beginning above the waist isn't very flattering

-

Our testing suggests rival suits to be more aerodynamic
Why you can trust Cycling Weekly Our expert reviewers spend hours testing and comparing products and services so you can choose the best for you. Find out more about how we test.
A skinsuit is designed to be the most aerodynamic piece of clothing you can wear. Premium skinsuits such as the Assos CS.speedfire Chronosuit S7 feature special fabrics and strategically placed seams designed to reduce drag and manipulate airflow.
>>> Project 49 - how to ride a time trial pb (video)
The Assos CS.speedfire Chronosuit S7 has reportedly been developed with the use of a wind tunnel and is notable for being worn by the USA and Swiss teams in the Olympics. It is also worn by the BMC pro team and perhaps most famously by Fabian Cancellara en route to the gold medal in the Rio Olympics individual time trial.
It's very well made, the quality every bit as excellent as you'd expect of an Assos product. In this regard it stands out and is superior to other skinsuits I have tested, including leading suits from Castelli and Endura. There is a radio pocket (in case you're a pro) and a very useful small zipped valuables pocket on the rear which is ideal for a car key, meaning you don't have to ask the timekeeper to look after it for you.
Consistent with other Assos products the Assos CS.speedfire Chronosuit S7 is built to last, but we would like to see the inclusion of a number pocket on the rear, as this helps to stop the suit getting damaged from pins.
The distinctive Assos logo pattern received a Marmite reaction when worn at local time trials. I like it, but the suit does create the illusion of a high waist line, which is not the most flattering.
Having performed competitive aero testing of multiple skin skinsuits with the help of WattShop at Derby Velodrome, we were able to see how the Assos CS.speedfire Chronosuit S7 compared against leading suits from Bioracer, Castelli, Endura and others.
Our testing suggested the Assos suit was consistently slower than the others, which came as a surprise. Despite not being the fastest, the consensus among all our test riders was that the Assos suit was, without doubt, the most comfortable on test. We will be publishing a video in the not to distant future that goes into more detail about this testing and the data obtained.
It should be pointed out that although we tested the skinsuits with three different riders, the performance of a suit can be system dependent, meaning that the fastest suit on you may not be the fastest suit on me.
Thank you for reading 10 articles this month* Join now for unlimited access
Enjoy your first month for just £1 / $1 / €1
*Read 5 free articles per month without a subscription
Join now for unlimited access
Try first month for just £1 / $1 / €1
Oliver Bridgewood - no, Doctor Oliver Bridgewood - is a PhD Chemist who discovered a love of cycling. He enjoys racing time trials, hill climbs, road races and criteriums. During his time at Cycling Weekly, he worked predominantly within the tech team, also utilising his science background to produce insightful fitness articles, before moving to an entirely video-focused role heading up the Cycling Weekly YouTube channel, where his feature-length documentary 'Project 49' was his crowning glory.