Castelli Body Paint 3.0 Skinsuit review
The Castelli Body Paint 3.0 is described by Castelli as being "probably the fastest suit on the World Tour,now available to non-World Tour riders." We put it to the test.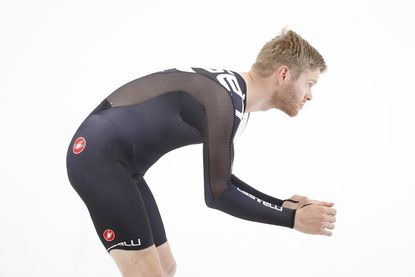 (Image credit: daniel gould)
A very fast suit that is significantly cheaper than many premium suits. Well made and very tight. It is hard to fault but I would like to have number pocket.
Reasons to buy
+

Very fast off the peg suit

+

Good quality

+
You can trust Cycling Weekly. Our team of experts put in hard miles testing cycling tech and will always share honest, unbiased advice to help you choose. Find out more about how we test.
Castelli claims that the Body Paint, now in it's third iteration, is one of the fastest off the peg skin suits you can buy. Cutting edge custom suits will often be faster, but unless you are Sir Brad, the high price is hard to justify. Custom suits are even hard to justify when you consider they are often only optimal for a handful of rides, after which they stretch slightly to become no faster than a normal suit. Having spoken to Dr Hutch he described it a skin suits 'dying.'
>>> The best time trial bikes and triathlon bikes: a buyer's guide
>>> How much speed can you buy (video)?
Sizing is key and 69kgs and 185cm I squeezed into a size small. While wearing the suit I was unable to stand up straight for fear of irreversible damage to my reproductive equipment, but the on bike fit was superbly aero, with zero bunching. The special fabrics used are more aerodynamic than skin, so the legs are cut slightly longer and suit has sleeves. The thumb loops are really useful for holding the sleeves in place.
>>> How much faster does a skin suit make you?
This is a quality skinsuit and very popular on the UK domestic time trial scene. I can report that it is very fast too. During some recent drag coefficient testing, I achieved roughly a 10 watt improvement at 40 kph using the body paint over the Specialized S-Works Evade Race suit, something which roughly translates to 16 seconds in a 10 mile tt.
>>> Read how Richard Bussell won the national 10 mile tt on a bike that cost just £1000
Video - How much speed can you buy?
However, I wanted to put it to the test properly so headed to South Cave for a 10 mile time trial on the V718 promoted by Team Swift.
The suit performed superbly, and I achieved a pb time of 19:35. Although this is a fast suit and feels slippery through the air, it isn't the most comfortable piece of cycling clothing I have worn. I do have to perform a certain amount of arranging downstairs as the chamois has a tendency to wedgy slightly on me. I can put up with this for a 10 or 25 mile tt but it might be a problem in a 50 or 100 miler though.
>>> How much difference do TT wheels make (video)?
The only other issue I have with the Castelli Body Paint skinsuit is the lack of number pocket. I have heard conflicting data about the the aero benefit of a 'No Pinz' style number pocket, but what can't be argued with is the convenience. No doubt some people enjoy asking strangers in car parks to pin numbers to their posterior. This often involves 'assuming the position,' bent over, almost inevitably resulting in your bum being pinched. Simply sliding a number into a pocket is much quicker and convenient. Anything for an easy life.
The Castelli Body Paint suit does feature a flap to cover the top leading edge of the race number though. A neat idea, but I think Castelli should offer a number pocket option at the point of purchase. Compared with a £40 pair of shorts £144 is expensive for a suit, but when you look at it in terms of cost per watts saved, a suit like this really is a no-brainer, when compared to fancy wheels or a £4000 TT frame. For more info head over to Castelli.
Thank you for reading 10 articles this month* Join now for unlimited access
Enjoy your first month for just £1 / $1 / €1
*Read 5 free articles per month without a subscription
Join now for unlimited access
Try first month for just £1 / $1 / €1
Oliver Bridgewood - no, Doctor Oliver Bridgewood - is a PhD Chemist who discovered a love of cycling. He enjoys racing time trials, hill climbs, road races and criteriums. During his time at Cycling Weekly, he worked predominantly within the tech team, also utilising his science background to produce insightful fitness articles, before moving to an entirely video-focused role heading up the Cycling Weekly YouTube channel, where his feature-length documentary 'Project 49' was his crowning glory.