Cadence Conqueror long sleeve jersey review
A really good long sleeve jersey that looks great too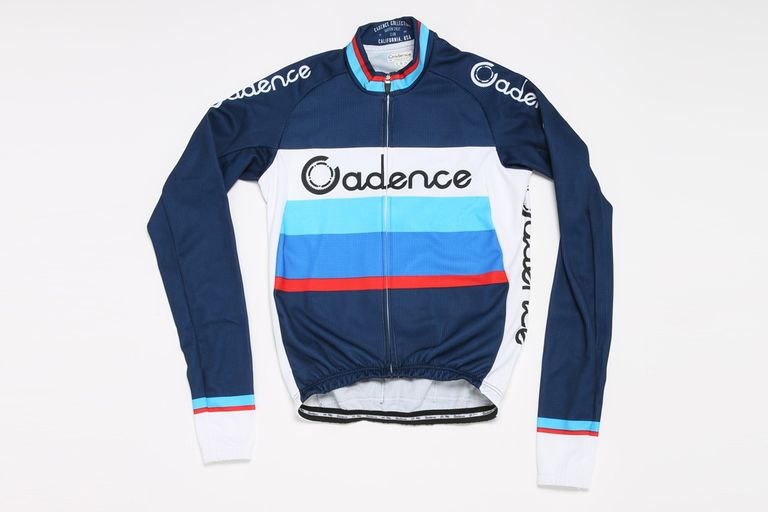 The Cadence Conqueror long sleeve jersey might be a little expensive, but it does everything you could ask of it, being warm, comfortable, and fitting really well
For
+

Great fit

+

Lovely and warm

+

Comfortable

+

Looks great
Against
-

Pricey

-

Pockets hard to access
There are plenty of brands out there that try to bring a touch of style to their performance cycling kit, not all of them successfully, but Cadence seems to have nailed it with the new Cadence Conquerer long sleeve jersey.
With it's lovely blue, white, and red design, this jersey is available in short sleeves or long sleeves. Given the time of year, I've been putting the long sleeve version through its paces, and it's proved a perfect match for the mild weather we've had so far in November.
>>> 15 reasons why cycling in the winter is great
The whole of the Cadence Conquerer long sleeve jersey is made from a thermal Roubaix material, which means that the inside is covered in a light fleecy lining. Not only is this really comfortable, feeling nice and soft against the skin, but is also lovely and warm.
For this time of year it's perfect, being warm enough to take you well down into single figures before you need to put a jacket over the top. The Cadence Conqueror long sleeve jersey comes with an unashamedly race fit which means that it might be worth going a size up from what you'd usually take for a jersey. But don't be put off, this jersey is by no means skintight, just fits well enough to all but eliminate windflap.
Watch our guide on how to dress for winter riding
I was particularly impresses by the arms, which were nice and long meaning they could be easily tucked into winter gloves, but not to the point where there was excess material that would bunch up when you bent your arms.
As you'd expect, the Cadence Conquerer long sleeve jersey comes with three rear pockets that are really well sized. However I did find that they were a little tricky to access as the race fit means that the openings are pulled tight against your back.
>>> Seven simple steps to be a successful cyclist
The only other downside is probably a bigger one: the price. At £125 there's no avoiding the fact that this is a very expensive jersey, and surely at the top end of what anyone would pay for such a product.
That said if you do decided to buy it, there's no doubt that you'll be satisfied with your purchase.