Hump Duo Tone reflective backpack cover review
A winter commuting essential, we take a look at the Hump Duo Tone waterproof reflective backpack cover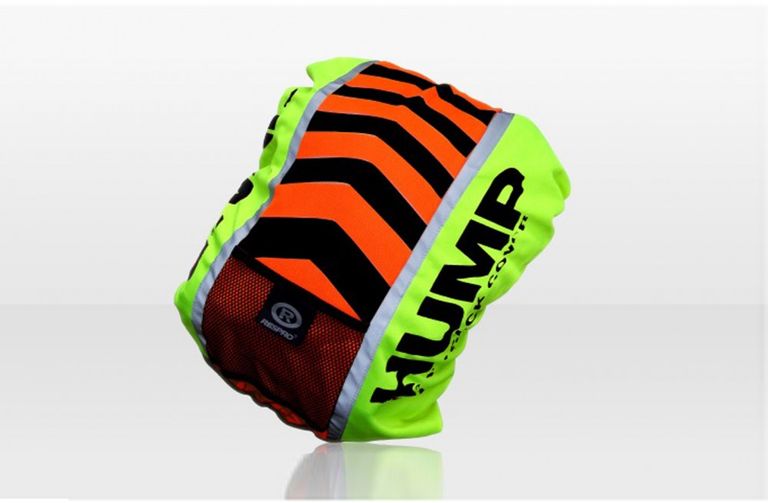 For
+

Enhances visibility and waterproofing

+

Quality product

+
Against
-

Not cheap

-

Attaching it to a bag can be a bit of a wrestling match
Often imitated, never out-fluoroed, the Hump backpack cover is one of those ubiquitous winter commuting essentials, transforming the most muted of bags into a garish safety device in seconds.
>>> Best backpacks: a buyer's guide
You could be forgiven for assuming that a fluoro bag cover is a fluoro bag cover, but the brand's high-quality line-up features more Humps than a herd of camels. These range from the basic £17.99 fluoro yellow Plain Hump, to the £45.99 all singing, all dancing 'Vegas Hump' with its double LED light banks.
The Duo Tone featured here sits toward the lower end of the Hump pecking order at £19.99, and it's not hard to see where it got its name (sadly it's nothing to do with vintage guitar amplifiers). As well as those lovely clashy fluoro hues, there are two vertical reflective strips, a mesh pocket and a stack of eye-catching black chevrons. (We kind of hoped they'd have some built-in reflectivity too, but they are just plain black).
It attaches to any average sized rucksack by virtue of two poppered elastic straps, and an elastic hem which helps the Hump hug the bag securely. This is, unfortunately, an inherently tedious task which is like trying to wrestle an octopus into a binbag. Thankfully, it only takes half a minute, and for the extra visibility (not to mention the waterproofing, which is essential when riding in the rain) it can add to your rucksack it is worth every teeth-gnashing second.
Do make sure you have removed everything you might need for your journey before fitting the Hump though, because once it's on, access to your bag will require removing it.
For more details on this and other products, see MyHump.co.uk