Shimano S-Phyre X glasses review
We test the new S-Phyre X glasses from Shimano, as worn by the LottoNL-Jumbo team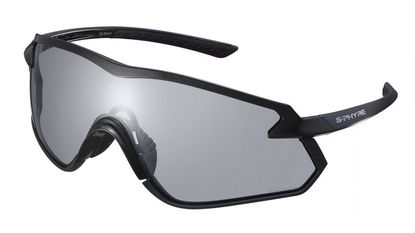 Overall, Shimano has created a decent, well-priced pair of glasses to compete with the big-name eyewear brands. However, the S-Phyre X could do with a little refinement and with its slightly generic appearance doesn't create the sort of buzz that a new Oakley design usually does.
Reasons to buy
+

Three swappable lenses

+

Decent optics from all three lenses

+

Large lens supplies good coverage

+

Value for money
Reasons to avoid
-

Photochromatic lens doesn't go clear

-

Lack of venting

-

Lens sits too close to face

-

Generic looking
The new S-Phyre X glasses from Shimano, developed with the LottoNL-Jumbo team, have a top half-frame with detachable lower frame bumpers. The other model in the range, the S-Phyre R, has a frameless design.
The lens is large, extending well above the eyebrows so that even in the most aggressive position the frame top doesn't obscure your vision. We should say 'lenses' because you get three in the hard case the S-Phyre X glasses come with: there's a polarizing mirror red for bright light conditions, a photochromatic dark grey for variable light that changes from 13 to 62 per cent light transmission in eight seconds, plus a 'Cloud Mirror' lens.
The Cloud Mirror lens has 85 per cent light transmission and is designed to reduce blue light transmission while allowing red/yellow through for good contrast in low-light conditions. We found this lens was the best for night riding while the grey-tinted photochromatic was great for daytime changeable light conditions.
However, the photochromatic lens would be more useful it it did go completely clear rather than starting at dark grey in order to avoid unnecessary lens changes: they're not the easiest to swap but once you learn the technique it is possible to accomplish it without worrying about snapping something.
In the box are both red and black detachable lower bumpers, which, compared to the lenses, are easily swapped but don't look as if they've seated properly into the nosepiece.
Although they're not adjustable the arms of the S-Phyre X glasses are comfortable and secure, but we found they have a tendency to pull the lens too close to the face. This, combined with the lack of venting on offer, led to a feeling of overheating in warmer conditions, with sweat collected by the eyebrows running down the insides of the lenses. That said, as with helmets, different glasses suit different shaped heads.
Thank you for reading 5 articles this month* Join now for unlimited access
Enjoy your first month for just £1 / $1 / €1
*Read 5 free articles per month without a subscription
Join now for unlimited access
Try first month for just £1 / $1 / €1