Giro Espada Boa cycling shoes review
Giro's Espada women's and men's Trans shoes have evolved with the addition of a Boa dial - we tested them out to see how they would perform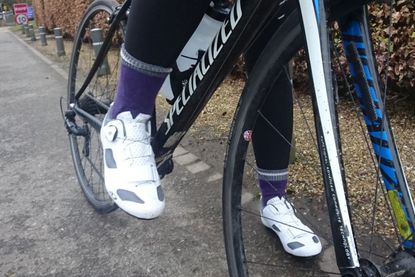 A cycling shoe that effectively marries comfort with performance. These aren't the lightest or raciest looking of kicks, but they offer a concrete stiff sole and a reassuring degree of support.
Reasons to buy
+

Solid carbon sole

+

Comfortable upper

+

Lots of support
Reasons to avoid
-

Some riders may not enjoy added bulk of padding
Giro holds a prominent position in the stiff-soled race shoe market and the brand has won much of the bike riding world over with its top end Empire SLX and Techlace models - bringing out a head-turning development on an annual basis without fail.
The Giro Espada Boa shoe is not new to the line up, but the Boa is a recent upgrade to the platform. Akin to the men's Giro Trans Boa shoes, these carry an RRP of £179.99 - Giro calls this model its "race capable mid-level carbon soled shoe."
Performance has remained high on the agenda. The outsole is constructed from Easton EC70 carbon – which doesn't quite match the stiffness of the E90 found on top end options like the Giro Empire or Techlace shoes, but it's still incredibly firm and you'd be hard pushed to detect any flex.
Outgoing models combined a ratchet with Velcro, but the newest incarnation of the Espada (and men's Trans version) uses a Boa L6 dial, which tightens in increments of 1mm but loosens to the max at one pull. There's Velcro straps at the toes for further fitting.
The upper is constructed from a breathable microfiber, mixed with mesh, and there's a moulded EVA footbed with medium arch support plus replaceable walking pads. The claimed weight is 245g in a size 39, though we actually clocked them at 235g in a size 40 (with an insole change).
The ride
"Hugged my insert-name-of-body-part" and "fitted like a glove" are both phrases idiosyncratic to cycling kit reviews – it's something we find often. A glove-like-fit is an attribute particularly desirable in cycling and therefore a feature brands strive to provide.
The Giro Espada Boa's, however, took foot hugging to a new level - particularly in the heel - in a manner I initially could not decide if I liked. There's two explanations for this snugness.
Firstly: top end shoes favour lightweight construction, and thus padding is generally kept to a minimum – but the Espada shoes combine performance features like the E70 carbon soles, with a few more comfort orientated nods as well.
The additional padding took some getting used to, but once accustomed, I started to hold it as a major plus - an example of a situation where looking a rung or two down the performance ladder can play dividends in comfort. It also meant my feet never moved around in sprints on the track or when climbing - which is a major pro when it comes to performance.
The second potential reason for the closer fit, and the theory Giro subscribed to when asked, is that its women's shoes are based around a women's foot last, and as women do on average have narrower feet, especially at the heel - the resulting shoe reflects that.
When it comes to performance, the sole is the heart of any cycling shoe and the E70 carbon used absolutely did not disappoint – providing ample power transfer that was stand out from the first pedal stroke. I think I'd need a massive injection of wattage before I had need for any more of the elusive and notoriously unquantified "stiffness".
I didn't use the provided foot-beds with their medium support, rather slotting in my own personalised insoles. However, the close fit of the overall shoe did mean that the support offered by the insoles did feel more pronounced than normal.
All praise so far. There always has to be criticism – and in this case it's that I do wonder if the bulk of a heavier weight shoe might lend itself to overheating come the summer months. However, this hasn't proved to be the case during dehydratingly sweaty turbo sessions and there's plenty of inbuilt mesh to aid what brands like to call 'heat management'.
The overall aesthetic, I feel, is attractive and the surface proved to be easily wipe-clean.
Fit in a cycling shoe is incredibly personal. Personally speaking, Giro shoes work for me - I've got a fairly wide forefoot and a narrow ankle. If you, like me, are unable to wear slip on shoes without an additional ankle gripper and typically find narrow shoes crush your little toes, then Giro could be your new go-to.
Thank you for reading 5 articles this month* Join now for unlimited access
Enjoy your first month for just £1 / $1 / €1
*Read 5 free articles per month without a subscription
Join now for unlimited access
Try first month for just £1 / $1 / €1