Fizik Tempo Decos Carbon review - a great all-rounder with head-turning colours
The Italian brand does it again with high-quality kicks that fit straight out of the box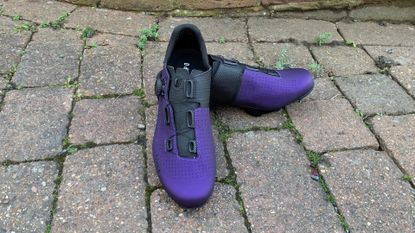 (Image credit: Adam Jones)
Sleek, stylish and sophisticated, the Tempo Decos Carbon epitomises Italian flair and engineering. Lightweight, yet supremely stiff, narrow but instantly comfortable and with no pinch-points, you're getting thoroughbred performance every time you clip in.
Reasons to buy
+

Simple, uncluttered, elegant design

+

Lightweight

+

Excellent, true-to-size fit

+

Easy, in-ride adjustment

+

Four colour choices

+

No pre-moulding required

+

Vented upper plus air intake and exhaust port keep your feet sweet
Reasons to avoid
-

Only one Boa dial at this price point
Launched in Spring 2022, Fizik's Tempo Decos Carbon shoes are pitched at serious amateur road riders and come with claims pertaining to an ambitiously wide range of attributes.
Whereas some of the very best road cycling shoes are designed with a laser-guided specificity, doing one thing very, very well, the Tempo Decos Carbon are supposed to offer all-day comfort during long rides in the high mountains whilst also being equally at home in a full-gas crit.
Fizik Tempo Decos Carbon: construction
Straight out of the box, the vivid purple, or 'Aubergine', of the polyurethane-laminated uppers hits you. The black tongue, bi-directional Li2 BOA dial and carbon fibre soles create a pleasing colour contrast, whilst the side profile of the shoe can only be described as elegant.
A neat little touch on the inside of the heel are rubberised dimples that grip the back of your foot, to help guard against any mid-ride slippage.
There's an almost Formula One-esque look to the base of the Tempo Decos, thanks to the carbon fibre layup of the outsole - complete with a wide air intake towards the front and an 'exhaust' port behind the cleat plate - to facilitate super-efficient cooling airflow and temperature regulation, working in harmony with the stylishly vented uppers. The polyurethane-laminated material used for the shoe's upper part is durable and supple, while its relative thinness adds to the weight-saving qualities.
In contrast to more traditional cleat positions, Fizik has brought theirs a little further back with a view to improving pedalling efficiency and reducing knee compression.
The Tempo Decos are available in four colourways; ranging from CW's test pair in 'Aubergine' (purple), the eye-catching Iridescent Blue variants and more traditional black or white with black accents variants.
At an average weight of just 228 grams, these shoes are ideal for those wanting to conserve weight, without compromising overall performance in a number of ride scenarios.
The ride
The shoes arrived at the beginning of the panto season (oh yes, they did!) and like CW's very own Cinderella I slipped my foot in straight away. Bad jokes aside, this is an important point, as unlike some rival Italian shoe brands, Fizik offers true-to-size fitting.
Wearing the shoes on colder days meant popping on thicker socks, but once in place and with the dial adjusted, comfort was never an issue. The venting on the upper and outsoles is super-effective and - on a day when it was comfortable to wear regular socks and a cotton overshoe - I could feel the airflow at work.
The R2 carbon outsole is very rigid, with no discernible flex whatsoever. This gives great confidence on the bike, with excellent power transfer; whether climbing, sprinting or riding tempo. When simulating a TT effort, the cosseting fit of the shoes meant that my feet remained secure with no movement throughout an extended effort. Moreover, when fitted with a Speedplay cleat, the Fizik weighs 320g, while the Sidi Kaos I normally wear for racing weighs in at 440g, with the same cleat.
The excellent fit and feel of these shoes is matched by their aesthetics. I love the simple, unfussy and uncluttered lines. Even the positioning of the logos – on the heel and outside of the toebox – is discreet. Extroverts will love the Iridescent Blue or vibrant purple choices, whilst those with more classic tastes will find the black or white options equally appealing.
Value and conclusion
Retailing at a whisker under $300.00 / £280.00, the price automatically puts the Fizik Tempo Decos Carbon into the high-end category. As an adherent to the old adage 'you get what you pay for' the sheer versatility and quality of these shoes makes them a great investment.
Fizik has rightly pitched the Tempo range at the broad swathe of cyclists who take their riding seriously and therefore have a multitude of requirements from their shoes. For those with more exacting needs, such as Elite or First category road racers, Fizik has created the Vento series in collaboration with pro cyclists.
Other brands and models to consider could include Giro's Regime shoes (RRP $240.00 / £229.99), which also offer lightness (230g), allied with comfort and support, plus bargain prices online.
It's also worth taking a look at Shimano's RC902 S-Phyre shoes (RRP $385.00 / £319.99), which offer excellent sole stiffness, plus adjustability and breathability, all at a similar weight and price to their Fizik rival.
It's worth noting that both of those options come with two Boa dials, which does help to better distribute the retention tension across the foot.
Thank you for reading 10 articles this month* Join now for unlimited access
Enjoy your first month for just £1 / $1 / €1
*Read 5 free articles per month without a subscription
Join now for unlimited access
Try first month for just £1 / $1 / €1
I first got into cycling by watching Channel 4's coverage of the Tour de France in the mid-80s. Those hour-long updates over three weeks were like a gateway drug to the teenage me, along with poring over the race reports in Cycling Weekly.
I cycled as a student, revelling in the freedom riding a bike gave me, but after moving to London in the early 90s, a string of near misses convinced me to park the bike and follow other interests. After falling off a horse in 2014, I took up cycling again as part of my physical rehab and that was it.
Hooked again. Since then, I've taken part in events like the Roubaix Challenge and DeeJay 100 Gran Fondo in Milan and become a regular competitor in local time trials. A (pro) kit obsessive, I have an entire wardrobe on my landing devoted to clothing, shoes and helmets, while drawers and shelves elsewhere in the house are stuffed with other cycling paraphernalia; sunglasses, sportive medals, a replica cobble and books galore.