Oakley Tour de France Prizm Radarlock Path review
A classy and unbeatable set of sunnies for any type of rider, but they come at a price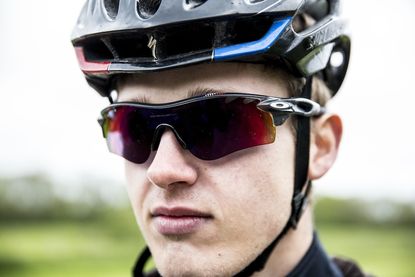 If you're looking for a subtle way to celebrate the world's biggest bike race and your looking for a top of the range set of sunglasses, then the Radarlock's are certainly the model for you. An expensive option, but there's no doubt you'll be getting a unbeatable set of glasses here.
Reasons to buy
+

Great lens clarity

+

Excellent fit

+

Easy lens switching
It's hard to start talking about a set of Oakleys without repeating what's already been said, because by now, you'll know that you're almost guaranteed to be getting one of the best sets of riding sunglasses on the market.
And this year's Tour de France special edition of the Radarlock Path is no exception, with the same excellent fit and style that's helped Oakley to the top of the market.
Looks, of course, are an important factor in choosing a pair of sunnies, and the Radarlock Path's seem to have a style that rarely looks egregious on any face shape.
The Tour de France decals on this particular pair might not appeal to some, but it feels like a slicker and classier wasy of celebrating cycling's biggest race without donning a maillot jaune. However, there are alternative frame designs and lens colours to suit everyone's taste, or even match your bike.
The Radarlock Path's come with the American brand's 'Prizm' lenses, which it claims enhances vision specifically for sport. It's hard argue that these lenses are superb, and they were certainly marginally better than some equivalent lenses we've ridden with. The vents at the top of the lens is also a nice touch, which we felt helped dispel steaming more rapidly.
Within the soft case you get when you purchase these, you'll receive an extra clear set of lenses to switch in on those dark and rainy days. There wasn't anything particularly special about these, but getting lenses in and out proved easy enough and the clear lenses did an adequate job.
We had some brief trouble with the rubber nose piece coming off on one-side to begin with, but once it was sorted there was no further issues. The main con here though, is obviously the price. At £172, these aren't the most affordable and will prove difficult for some to swallow with some decent alternatives out there for a lot less.
But for the money you're paying, you'll be getting a pair of sunglasses we can't see you needing to upgrade for a long, long time.
For more details, visit the Shade Station website (opens in new tab).
Thank you for reading 5 articles this month* Join now for unlimited access
Enjoy your first month for just £1 / $1 / €1
*Read 5 free articles per month without a subscription
Join now for unlimited access
Try first month for just £1 / $1 / €1