POC DO Blade glasses review
Good good-looking sunnies, but they might only work for those with fatter faces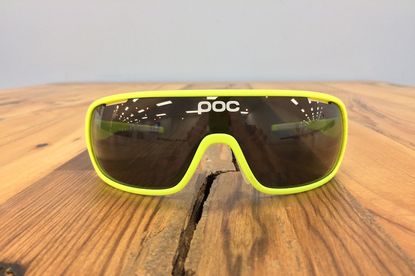 I suspect the POC DO blade glasses are suited to those with a wider face. On my skinny features I found them far too easily dislodged.
Reasons to buy
+

Lightweight

+

Good lenses

+

Wide field of view
Reasons to avoid
-

Don't suit skinny faces

-

Lack of grippers

-

Move about head when riding
Why you can trust Cycling Weekly Our expert reviewers spend hours testing and comparing products and services so you can choose the best for you. Find out more about how we test.
Swinging at the premium end of the cycling glasses market, the POC DO Blade glasses take the fight to the likes of the Oakley Jawbreakers.
There are plenty of features to like here: quality changeable lenses, a good field of vision and a decent, face-sparing weight.
It's dead easy to swap the lenses in and out, although you'll have to acquire the other lenses separately. When you have them, it's as simple as pushing in the curved bit of plastic on the bridge of the nose and then popping the lens out. It's then just a case of popping the replacement back in.
These are good-quality lenses, too, and while they might just be pipped by Oakley's glass in terms of performance, the POC DO Blade lenses are still made by Carl Zeiss and provide crisp, clear fields of view.
>>> Best cycling sunglasses: a buying guide
This is also aided by the good peripheral vision, and thanks to the wide lens your field of view isn't hindered by the frame.
That said, my particular frame was slightly invasive, but I'll attribute that to the fluoro-yellow colour scheme, which is probably visible from space.
The only times I suffered any fogging was when stationary and wet; however it lifted quickly when riding and didn't hinder my view.
Watch: How to dress for hot conditions
Where POC loses this battle, though, is in terms of the fit. It's not a case of pinching or hot spots, and I never suffered any type of rubbing or discomfort from the glasses. It's just that these are glasses for those with a wider face, and on my own skinny head I found they were far too eager to move around. They consistently lifted off my nose whenever I looked down at my feet, handlebars or gears.
Making matters worse, there aren't any real grippers here, and this becomes very noticeable when placed side-by-side with Oakley's Jawbreakers.
The DO Blade glasses do have a rubber nose piece and then a thin strip on the arms. In general I tend to find that glasses with rubber around the bottom sit on the face better, even if it's not quite as aesthetically pleasing.
Thank you for reading 10 articles this month* Join now for unlimited access
Enjoy your first month for just £1 / $1 / €1
*Read 5 free articles per month without a subscription
Join now for unlimited access
Try first month for just £1 / $1 / €1