Triban GRVL 520 SRAM Apex review - competitive spec, confused character
Triban retains value prowess with an impressive spec, but does the frame quality hold up against the competition?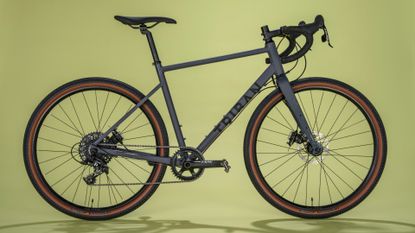 (Image credit: Future)
The Triban GRVL 520 certainly stacks up strong on the spec sheet, but we weren't convinced by the ride quality and handling. We found the 650b setup a little too slow for the road - and then the geometry struggled on the really rough stuff. It's definitely a good value setup, but the frameset isn't quite up to scratch.
Reasons to buy
+

Competitive spec for the money

+

Robust tire choice
Reasons to avoid
-

Ride quality and handling not up to scratch
You can trust Cycling Weekly. Our team of experts put in hard miles testing cycling tech and will always share honest, unbiased advice to help you choose. Find out more about how we test.
Triban's line-up of wallet friendly bikes has been extended with the new Triban GRVL 520. With prices seemingly rising exponentially in recent times, even the Triban 520 can't quite stay under the $1,500 / £1,000 ceiling. But is its competitive spec enough to compete with the best gravel bikes in this price range?
Triban GRVL 520: Construction
Upon first pondering the spec sheet for the Triban 520 I was initially intrigued by what is safe to describe as an unfamiliar set of components for this price range, but let's start with the frameset.

The Triban GRVL 520 is constructed from 6061 T66 aluminium and shares plenty of features with competitors on the market.
Among the present features are the dropped seat stays. By lowering the junction of the seat stays with the seat tube, the Triban has been able to build in a little more compliance which helps on longer rides.
As far as geometry is concerned, the Triban opts for a relatively safe set of angles. The 71.5 degree head angle and 73.5 degree seat angle give the bike a slightly straighter stance compared to rivals such as the Cannondale Topstone which reflects pretty accurately upon riding. Meanwhile, the chainstays for the effective size of the bike are a little longer than other bikes on the market - which can slow down the handling slightly, especially when the going gets technical, but for newer riders, this does equate to a more stable ride feel.
The pair of alloy triangles are mated to the new Triban EvoG fork. The alloy 1⅛" steerer adjoins carbon blades to help keep the weight low and features flat-mount brakes. There is plenty of capability too here for mounting various accessories. Adventure motivated riders and commuters can both be satisfied too with a full set of fender mounts, and the capability for fork mounted bottle cages, or luggage space.
And as for style points, well, all cables are still externally routed which does hinder the cleanliness of the frame's angles somewhat, but Triban has kept these mostly out of sight running on the underside of the downtube - and in this instance external routing probably makes sense in combination with cable actuated braking.
Colorwise it's a pretty easy decision, because you get what you're given! There are two different versions of the GRVL 520, and we'll get into those builds in just a minute. The SRAM Apex model comes in 'Abyss Grey/Black' which is quietly spoken, but classy matched with tan wall tires. The Subcompact build on the other hand, opts for a slightly more tasty looking 'Deep Chocolate Truffle/Bright Tomato' - or Dark Red, in layman's terms.
So we've covered the frameset, what about the intriguing spec?
Well, let's start with a bit of background on those different setups. The subcompact, named in accordance with its 48/32 dual chainring setup, is clearly aimed at slightly higher paced riding and commuting. Set up with 700x40c Hutchinson Touareg tubeless ready tires and also features a part Shimano R7000 105 groupset, pointing its nose less in the direction of technical riding.
While the Apex which we had on test, handles the more rowdy side of riding, with its chunkier 650b wheelset. Shod with the same Hutchinson Touareg tires, but in a much more aggressive 47c width, the Apex definitely lends itself to a more playful ride.
SRAM Apex 11-speed shifting definitely beats out the competition on value at this price point too, and the addition on both models of lesser-used TRP HY/RD disc brakes cements a high specced bike for the money. But given the ride quality which we'll come onto, I'm rather sceptical about whether the componentry alone truly makes this bike good value.
So to round up then, a somewhat foreign spec sheet, but Triban seems to be keeping the pressure on the competition at least on the spec sheet.
Triban GRVL 520: the ride
The ride of the Triban GRVL 520 is where you really feel the trade off between frame quality, and higher spec componentry.
I endeavoured a wide range of terrain over my time with the GRVL 520 and ended up slightly confused at which consumer Triban has in mind.
My initial ride encountered predominantly asphalt, with a smattering of rutted bridleways. Here, the combination of 650b wheels and wide tires left the bike feeling slightly more sluggish than 700c rivals. Coupled with the narrower range of gears from the Apex 1x drivetrain, I did feel that an extra gear or two would have been preferable. The actual ride quality itself was a little harsh for my liking too, and even with those 47c tires I found a lack of compliance compared to the Specialized Diverge for example.
Having established that the bike deserved a slightly rougher test ride, I decided to take the Triban GRVL 520 to my local proving ground - Shotover. Here, I was able to test the bike on much wider range of more technical trails, including some singletrack and fire road, and this was definitely the preference of the Triban.
I was particularly thankful for the extra stopping power provided by the hydraulic pistons on the TRP callipers. But, though a great improvement over cable disc brakes, the hybrid setup from TRP still falls someway short of a fully hydraulic system found on slightly more expensive bikes. One thing I will praise here though, is the simplicity of external cable routing. These brakes require smooth running cables and it is far easier and cheaper to service them when they don't disappear into the abyss that is the inside of your frame!
From a value perspective, the headline feature on the Triban GRVL 520 is the addition of a 1x11 Sram Apex groupset. Although providing a simple approach to shifting, I still found that doubletap doesn't provide quite as smoother shifting experience as Shimano. Once again it would have been nice to compare between the Apex and Subcompact models to see how the frame performed with different componentry but I can't help but feel that the Triban GRVL 520 has a somewhat confused character - slightly too slow on the road for mixed surface rides, but not rugged enough to be truly capable off the beaten track. On happy medium terrain though, which for many riders will be the majority surfaces, the bike does pretty well providing a stable ride.
Triban GRVL 520: value and conclusion
If we were to take the $1,699.00 / £1,099.00 price tag and make our minds up purely from the spec sheet, then it would be all praise for the Triban GRVL 520's groupset, brakes, and solid tire choice - but it's not quite that simple. Competition at this price point is fierce, with the likes of Specialized, Giant and Cannondale all offering similar specced bikes with, to my mind, more frame pedigree. And in terms of ride feel, frame quality sits top of the pile.
For example, for $1,375.00 / £1,200.00, the Cannondale Topstone 4 offer a similar, 1x11 groupset - albeit microshift. It's a similar story with Giant's Revolt too, with the first model coming in at $1350.00 / £1200.00. These are both slightly priced slightly above the Triban GRVL 520, but something like the Cube Nuroad also boasts solid handling at a lower $1,251.10 / £999.00 price point.
To summarise then, A well specced bike but not one for everyone. The Apex build on test seemed to fall just in that awkward territory of slightly slow on the road but not as capable as some of the competition off it. The Subcompact seems like a much more useable option for mixed surface riding but I can't help but feel Triban has fallen a little short on that frameset.
Triban GRVL 520: Specs
Frame: Triban EvoG 6061 T6 aluminium
Fork: Triban EvoG alloy steerer with carbon fork blades
Shifters: SRAM APEX 1
Crankset: SRAM APEX 1, 40T
Derailleur: SRAM APEX 1 Long Cage
Cassette: SRAM PG 1130 APEX, 11-42T
Brakeset: TRP HY/RD cable pull hydraulic actuated disc brakes
Wheels: Triban Gravel aluminium tubeless ready
Tires and clearance: Hutchinson Touareg 650x47c(Max: 700x42c or 650x47c)
Weight: 10.9kg
Thank you for reading 10 articles this month* Join now for unlimited access
Enjoy your first month for just £1 / $1 / €1
*Read 5 free articles per month without a subscription
Join now for unlimited access
Try first month for just £1 / $1 / €1
Joe is Cycling Weekly's tech writer. He's always had a love for bikes, since first riding a two wheeled steed before the age of four. Years down the line, Joe began racing at t 16, and enjoyed great experiences internationally, racing in Italy, Spain and Belgium to name a few locations. Always interested in tech, Joe even piloted his Frankenstein hill climb bike to a Junior National Title in 2018. After taking a step back from elite level racing in April 2022, Joe joined our team as a freelancer, before becoming Tech Writer in May 2023.