Chapeau! Mistral Jacket review
British company Chapeau! look to provide a quality mid-weight winter jacket that will keep you comfortable and warm whether you are on a long winter ride or chilly commute to work. It is certainly stylish, but does it perform as well as it looks?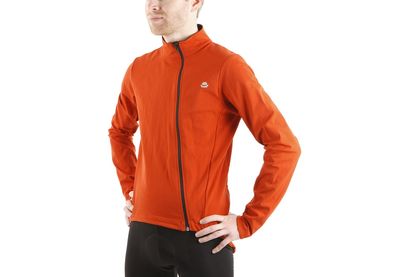 It isn't a soft shell, it isn't a hard shell. What is it? The Chapeau! Mistral jacket unique. It is neither waterproof nor windproof, but it is breathable. This jacket will be best suited for cold weather riding when used in conjunction with other layers. The styling is great and will sell the jacket to some riders, but the garment is ultimately let down by the material properties.
Reasons to buy
+

Stylish

+

Durable Fabric

+

Breathable

+

Generous bum flap

+

Ideal for Capt. Scarlett fancy dress
Reasons to avoid
-

Poor Water resistance

-

Not Windproof

-

Price

-

Very cold when wet

-

Slow drying

-
Chapeau! are a British company and design their products with the less than fantastic UK climate at the forefront of their minds. Whilst many companies tend to target their high end clothing at the slim fit, performance orientated racing snake, Chapeau! realise that the average cyclist is not 3% body fat or racing at World Tour level and consequently the fit of the Mistral is "regular".
We like the styling, it is refreshing to see cycling kit that is fashion concious and not just utilitarian, and luminescent. Having watched Captain Scarlett as a child we are fans of the Mistrals look and can't help but draw comparisons. But, does it justify the £184.99 price tag?
The jacket features a generous bum flap, which is a great feature for keeping your gluteous maximus dry and warm when the road surface is wet. On the rear, there are three large pockets and a fourth zipped pocket for valuables – a nice feature. The zipped pocket also features reflective edging, to add a subtle high-vis touch. The majority of the garment is constructed from the high quality, Swiss-made, Schoeller Ecorepel fabric. It is very tactile and feels like nothing we have encountered before. The material is rated as water resistant and breathable.
With regard to weight, the jacket is not the lightest and is also not actually wind proof. This was noticeable and the jacket can get cold, requiring layers to be worn underneath. Chapeau claim that this is deliberate in order to maximise breathability (claiming 65% windproof), but we remain skeptical. The Winderstopper fabric by Gore is found in many products and sets a bench mark that this textile doesn't match up to – it is breathable and a full windstopper. We found that this jacket needed to be used in conjunction with other layers underneath to keep the wind at bay.
Stated as water resistant we found that spray and a short shower could be handled with ease, but when exposed to heavy, or prolonged rain, the jacket quickly became penetrated. Once wet, the jacket felt very cold, feeling as if it was actually losing heat, rather than insulating. We also found that the jacket took a long time to dry, feeling damp for while afterwards. Other garments we have tested have dried much quicker. For this reason we wouldn't suggest using this jacket in the rain, thankfully Chapeau! provide the Repel jacket, which they claim is better suited for this purpose
The fabric does seem to wash well, but we are slightly concerned that the bum flap could become mottled with road spray over time. Removing mud stains from one of our test rides took a couple of washes. We like the 'rust' colour of our sample, but would consider the other 'grey' colour option as it may be more practical at hiding dirt.
For more info visit the Chapeau! website.
Thank you for reading 10 articles this month* Join now for unlimited access
Enjoy your first month for just £1 / $1 / €1
*Read 5 free articles per month without a subscription
Join now for unlimited access
Try first month for just £1 / $1 / €1
Oliver Bridgewood - no, Doctor Oliver Bridgewood - is a PhD Chemist who discovered a love of cycling. He enjoys racing time trials, hill climbs, road races and criteriums. During his time at Cycling Weekly, he worked predominantly within the tech team, also utilising his science background to produce insightful fitness articles, before moving to an entirely video-focused role heading up the Cycling Weekly YouTube channel, where his feature-length documentary 'Project 49' was his crowning glory.