Ekoi BWF Thermal jacket review
Boasting water-resistant and thermal qualities good enough to keep you warm down to -3°C for not much more than £100, is the Ekoi BWF Thermal jacket too good to be true?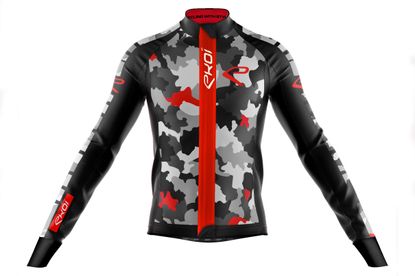 The competitively priced breathable Ekoi BWF Thermal jacket offers wind and water resistance while keeping you warm at low temperatures. A small tweak of the collar and reflective detailing would make this great jacket brilliant.
Reasons to buy
+

Wind resistant

+

Water resistant

+

Slim cut

+

ergonomic sleeves

+

Fleece lined

+

Very competitively priced

+
Reasons to avoid
-

No reflective detailing

-

Colour not for everyone
You can trust Cycling Weekly. Our team of experts put in hard miles testing cycling tech and will always share honest, unbiased advice to help you choose. Find out more about how we test.
In the world of thermal cycling jackets, it's often quoted that you get what you pay for, but in our experience Ekoi can be the exception to this rule. For 17 years now it's been one of France's best kept secrets, but is gradually making inroads in to the UK market, and with items like the Ekoi BWF Thermal jacket this can only be a good thing.
Construction
The body of the Ekoi is made from 100 per cent polyester, with the side panels including a polyester/elastane mix to give the Ekoi BWF Thermal jacket a slim-cut fit. It's not a highly technical material such as the Santini Vega Xtreme Winter uses or the Castelli Idro Pro, but is the basic fabric for most winter jackets these days and with its fleece lining, natural wind resistance and water-resistant treated outer, it should be more than adequate at keeping you dry from light rain or road spray, and warm, while remaining breathable.
>>> Winter cycling survival guide: 10 helpful tips to keep you riding
Ekoi says the BWF (Bike Winter Fashion) Thermal jacket should be good for keeping you toasty down to -3°C, if teamed with a winter-level base layer and Ekoi's BWF long-sleeved jersey, or around 10°C if just using with the winter base layer.
This layering system would be, by some brands, a 'sell up' marketing tactic, but I get the impression with Ekoi that it's genuine transparent advice on how to get the best out of its garment. I'm probably being naive here as there are multiple product bundle purchase options on its direct-to-consumer website, but it just seems more like helpful discount packages (which are also available in interest-free payment plans) than a 'buy this lifestyle' or a specific tone-down of technical capabilities strategy in order that you have to purchase more.
Ethical business marketing aside, there are some really nice design features that have been included in the Ekoi BWF Thermal jacket that makes it stand out from its reasonably priced peers, specifically collar and cuffs.
The all-important high fleece collar has been included, as has what Ekoi calls 'Cold Stop' cuffs – the inclusion of a slimmer cuff to fit it under winter gloves and prevent any chilly gaps forming.
At the back are three good-sized pockets with an additional smaller zip-secure one, but sadly no reflective detailing.
Last, but certainty not least, that colour scheme. There's no denying it is rather marmite, but whether you love or hate it note that there's at least three other colour choices. What colours I can't tell you as Ekoi's designs are always a limited run and once they're gone they're gone. This to my mind has two benefits in that first of all you're unlikely to come across anyone wearing the same coloured jacket as you and secondly it prevents the actual jacket getting sold out – Ekoi simply responds to demand and makes more limited runs, albeit in another colour.
The ride
Testing kit for CW is a real privilege, but while some folk get to ride round iconic landscapes and locations, I've got the more practical and real-world ride location of Manchester, well Stockport to be exact. I'm actually only a stone's throw from the Peak District, but sometimes life gets in the way of whimsical hilly rides and a more functional test of this jacket was carried out by mostly commuting miles, although I did manage to throw some off-road commuting in too.
In terms of fit, the Ekoi BWF Thermal jacket did indeed deliver its slim-cut promise. It's not aero tight, but with the correct layers underneath you'd struggle to find any spare flapping fabric. I was specifically impressed with how the chest and arms fitted. The high collar was certainly beneficial, but ideally this should be tapered from high back to slightly lower front so that it's angled perfectly for when in a bike-riding position. As it is, I found myself not zipping right to the top, as along with the comfort factor of the jacket being slightly too high when in the tuck position, it's also a busy area of helmet strap, base layer and jersey zips. So a redesign to decongest this area would be ideal.
The Ekoi BWF Thermal jacket isn't made from the fanciest of fabrics, nor does it profess to be, but in temperatures hovering around 10°C I was comfortable at commuting pace just wearing a winter-level base layer under the fleece-lined Ekoi BWF Thermal jacket.
For those that aren't familiar with the outskirts of Manchester, it's worth pointing out that it's far from flat. In fact, riding out of the centre in an easterly direction you'll find yourself riding uphill; ride in a line approximately eight miles out of the city centre from the north-east to the south-east and it's positively mountainous. Safe to say then that riding the Ekoi BWF Thermal jacket on this terrain was a good test of its breathability and wind-blocking capabilities over and over again for several miles in each direction each ride.
As a result I was actually really impressed with how well the jacket stood up to the demands of this constant hot-cold cycle. The extra taping and storm tab on the zip is a really nice touch, keeping out the cold wind, and the cuffs worked perfectly slipping under my winter gloves with zero gaps thanks to their extra long length.
The slim, elasticated, silicone-backed waist is also a really great addition, keeping the jacket firmly in place with no twisting or rising up despite heavily laden pockets or donning of a rucksack.
The only real 'missing' is reflecting detailing at the rear. Adding this and tweaking that collar would take the jacket to the next level.
Value
In a world of winter jackets costing upwards of £330 it's really pleasing to see a viable option on the market for less than £115. The Ekoi BWF Thermal jacket will require some layering to make it fully winterised, which will push up the price if opting for the corresponding Ekoi jersey. Alternatively, if you're happy to combine with what you've already got in the wardrobe, then for those riders on a budget it's a really good buy.
Thank you for reading 20 articles this month* Join now for unlimited access
Enjoy your first month for just £1 / $1 / €1
*Read 5 free articles per month without a subscription
Join now for unlimited access
Try first month for just £1 / $1 / €1